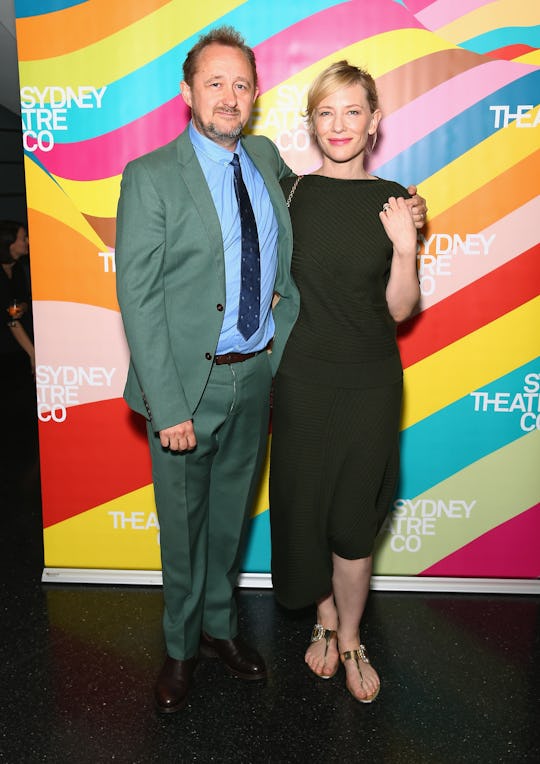 Don Arnold/Getty Images Entertainment/Getty Images
How Did Cate Blanchett And Andrew Upton Meet? The Story Of Their Whirlwind Romance Is Kind Of Hilarious
Actress Cate Blanchett and her playwright husband Andrew Upton may have 19 years of marriage under their belts and four children together, but it sounds like theirs didn't exactly start out as a fairytale romance. Blanchett herself has admitted in the past that they didn't actually like each other at the beginning — although the initial animosity eventually gave way to a passionate, whirlwind romance that still endures. So how did Cate Blanchett and Andrew Upton meet?
According to The Daily Mail, Blanchett admitted to Jay Leno back in 2013 that when they were first introduced on the set of a TV show in 1996, she thought he was "arrogant" and he thought she was "aloof."
"We just didn't really connect and we were going out with other people, who we're still friends with," she said, "and it was always an issue when the four of us went out that Andrew and I had something going on."
But eventually, Blanchett recalled, the two kissed one night during a game of poker, and the rest was history — the couple was engaged three weeks later. Blanchett elaborated on the romance to Ellen Degeneres last year, saying that she'd decided to marry Upton after only three days together, and that he actually proposed 21 days later after she tried (and failed) to make him dinner.
In addition to being married and raising children together, Blanchett and Upton also work together. According to E! News, the couple owns a production company, and are also artistic directors and CEOs of the Sydney Theatre Company (STC) in Australia. When asked in a recent interview how she felt about sharing a workload with her husband, Blanchett explained that the two had both a healthy home life and work life and that working together was "fantastic."
"It's been a great creative partnership with my husband and also a great love affair," Blanchett told E! News in November. "Working together, running a creative company in Australia. It's been fantastic."
So what's next for the devoted couple? Date night at the Oscars! Blanchett, already an Oscar-winner, is scheduled to present at this year's ceremony, according to Entertainment Weekly. Even more important, of course, she is also up for Best Actress for her buzzworthy performance in Carol, according to Rolling Stone. Though Room actress Brie Larson is heavily favored to win this year, with her "great love" Upton by her side, it sounds like Blanchett won't be too disappointed if she walks away empty-handed. #Relationshipgoals, anyone?