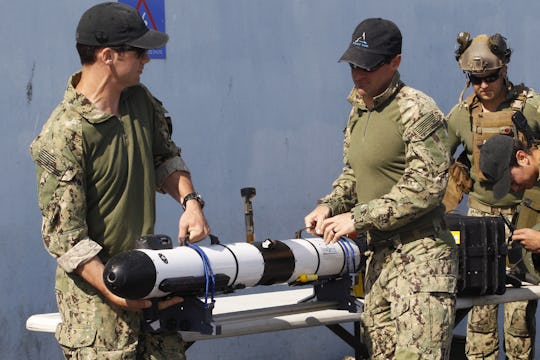 RAYMOND ROIG/AFP/Getty Images
How Did China Seize A US Navy Drone? It Was Taken From International Waters On Thursday
On Thursday, a Chinese Navy warship launched China and the United States into a diplomatic tussle when it seized a U.S. Navy drone from the South China Sea without permission, then refused to give it back. According to Reuters, the incident is definitely not protocol, and it's the first time something like this has happened in recent years — which begs the question, how did China seize a U.S. Navy drone in the first place?
Since the drone was an unmanned research vehicle, there wasn't really anyone on board to protest when the Chinese ASR-510, a Dalang III-class ship, dispatched a smaller boat to collect the drone. The drone was, however, clearly marked as a sovereign vessel that should be left underwater. "The [underwater, unmanned vehicle] was lawfully conducting a military survey in the waters of the South China Sea," a U.S. official told Reuters on Friday. "It's a sovereign immune vessel, clearly marked in English not to be removed from the water - that it was U.S. property."
To retrieve the drone, the Chinese warship pulled up near the USNS Bowditch, the American research vessel that had originally deployed the drone and was about to bring it back up, and retrieved it instead. The American research vessel reached out over bridge-to-bridge communication, asking for the Dalang ship to return their drone, but those requests went ignored. The Chinese vessel did, however, acknowledge the USNS Bowditch's message, and said only, "We are returning to normal operations," as they left, according to Pentagon spokesperson Jeff Davis.
"We have since worked through diplomatic channels to demarche China on this," Davis told BuzzFeed on Friday, meaning the United States has now issued a diplomatic demand for the drone to be returned. "This is not the sort of conduct we expect from professional navies."
Even if China does return the drone soon, the unusual scooping of a sovereign research vehicle in international waters doesn't exactly sit well with other countries. According to The Independent, China has reportedly increased its military presence in the international waters of the South China Sea, where it recently created seven artificial islands retrofitted with military weapons. If reports of the militarization were true, one U.S. naval commander told The Wall Street Journal in August, it would increase tension and destabilization in the area.
After the drone was snatched on Thursday, the United States' Pacific fleet warned that it would confront China if the country continued to overreach its maritime claims. As of Friday morning, however, China had yet to respond to the United States' request for its drone, leaving tensions running high between the two nations.