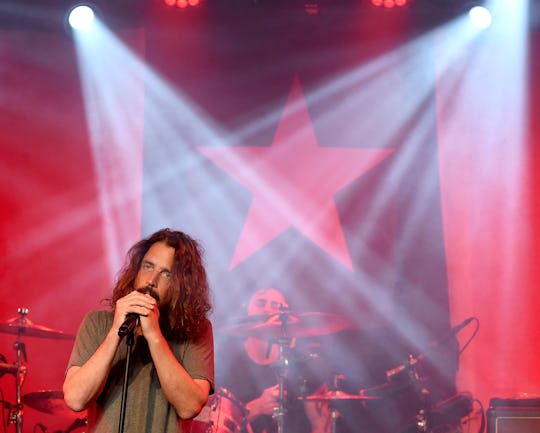 Kevin Winter/Getty Images Entertainment/Getty Images
Chris Cornell's Family Says Death Was "Sudden and Unexpected"
The man behind one of the most influential '90s bands, and one of the most well-known grunge musicians of all time has died, according to reports Thursday morning. He was 52 years old. How did Chris Cornell die? The Soundgarden and Audioslave frontman's family says his death was "sudden and unexpected," according to The New York Times. The Times also reported that the death is currently under investigation as "an apparent suicide," and that more information is expected to be released later in the day on Thursday. Update: The Associated Press later reported that the medical examiner determined the singer committed suicide by hanging in Detroit.
Cornell's publicist, Bryan Bumbery, said in a statement:
His wife Vicky and family were shocked to learn of his sudden and unexpected passing, and they will be working closely with the medical examiner to determine the cause. They would like to thank his fans for their continuous love and loyalty and ask that their privacy be respected at this time.
Cornell last tweeted on Wednesday from Detroit where he was playing a sold out Soundgarden show with The Pretty Reckless. The band was back on tour after having disbanded in 1997, during which time Cornell released five solo albums. Soundgarden hit the music scene in the early 1990s, and won a Grammy for the hit song, "Black Hole Sun" — the video for which remains an iconic piece of '90s nostalgia.
In 2001, Cornell and a former lead singer of Rage Against The Machine Zack de la Rocha formed Audioslave. The band released three albums, and their debut studio album – which featured the hit song "Like A Stone" — got them two Grammy nominations in 2004. Audioslave disbanded in 2007. Last fall, Cornell went on to tour with Temple of the Dog
Over the years, Cornell had been open about his struggles with drug addiction. In 1994 when he was interviewed by Rolling Stone, he spoke about his drug use — which began when he was just a young teenager. His use was varied throughout his career, and he ultimately went to rehab in the mid-2000s, according to The Atlantic.
In the 1994 Rolling Stone interview, Cornell also spoke about the death of Andrew Wood, frontman of Mother Love Bone and his former roommate. Wood had died of a drug overdose, and Cornell's reaction to the sudden death was eerily prescient of his own:
It's almost impossible to say when somebody that you know dies mysteriously. But what it felt like was that somebody came into your back yard and started fucking with your scene, fucking with your people. We thought that everything could remain intact and be true to itself, then just expand out with these tentacles, and that was naive.
On social media, tributes began to pop up as soon as the death was announced, and many shocked fans posted videos from the last performance Cornell gave just hours before his death was announced. According to CNN, the last song Cornell performed was a cover of Led Zeppelin's "In My Time of Dying."