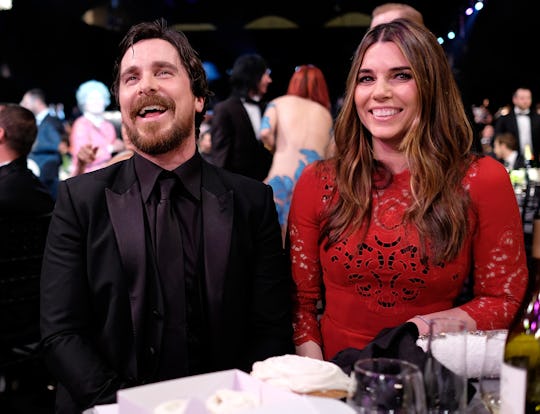 Dimitrios Kambouris/Getty Images Entertainment/Getty Images
How Did Christian Bale & Sibi Blazic Meet? Their Story Is Pretty Cute
It's almost time to unroll the red carpet for the 2016 Oscars. Come Feb. 28, the biggest names in Hollywood will be converging for one of the most glamorous nights of the year. From his roles in Newsies, American Psycho, The Dark Knight, American Hustle, and so many more, actor Christian Bale has earned the respect of the acting community and a cult following. He'll be attending the Oscars for his role in the nominated film, The Big Short. It's likely he'll walk the red carpet with his wife and longtime supporter, Sibi Blazic. Bale fans know that, for years, he was a self-described bachelor, so what changed his tune? How did Christian Bale and Sibi Blazic meet?
According to The Sydney Morning Herald, Bale's own dysfunctional family all but dissuaded him from ever getting married. He said, "I never planned to marry. Everyone was divorced in my family so I didn't have very healthy ideas about marriage." That all changed when he met Blazic. At the time, she was working as an assistant to actress Winona Ryder, who was a friend of Bale's. In 2000, Bale and Blazic eloped to Las Vegas when he was 26 years old and she was 30.
Five years after they were married, they had a daughter named Emmeline. In August 2015, they had a son, though both children have been fiercely kept out of the spotlight by Bale. Bale has come to be known for that kind of privacy, which is rare for such a long career in show business. He did, however, take some time to gush about his wife and her patience for his method of acting at the 2011 Critics' Choice Awards. He had just won best supporting actor for The Fighter when he told reporters, "I get choked up about that stuff… [My wife] had to be married to so many different characters over our marriage. I know that it truly would be impossible to do it without her. She's such a good, strong woman."
Turns out, strong may be an understatement when it comes to Blazic. During an interview with The Wall Street Journal magazine, Bale talked about his wife's role in The Dark Knight Rises. "My wife was a stunt driver — she was chasing me through the city in Batman. She was driving one of the cop cars. She can do 180s and stunts and all that." He went on to say, "She terrifies me. My wife terrifies me." Though that was her first stunts credit, she received a number of thanks from Bale, casts, and crew for her support during long months of production. She has been married to Bale for nearly 16 years, and she will likely be right by his side at the 2016 Oscars.