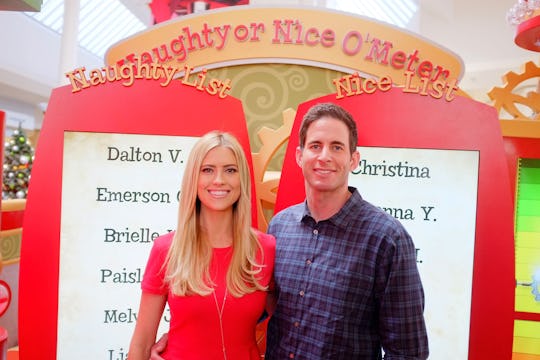 Jerod Harris/Getty Images Entertainment/Getty Images
How Did Christina & Tarek El Moussa Meet?
Christina and Tarek El Moussa, of HGTV's Flip or Flop reality television show, may have filed for divorce earlier this year, but it sounds like the two still get along relatively well, considering the circumstances. And part of what viewers liked about the pair was the fact that they were a married couple who worked closely together on their real estate projects. But how did Christina and Tarek El Moussa meet in the first place? As it turns out, the couple shared a love of real estate right from the start, and that led them to each other.
According to Pop Sugar, Tarek and Christina met at a real estate office. Hollywood Life reported that it was apparently love at first sight. According to that outlet, when Christina and Tarek met, "As soon as they laid eyes on each other at work, they knew something special was about to go down!"
In fact, according to a video provided by HGTV, Christina explained how they met, and that Tarek's "work ethic" is part of what impresses her about him. She said in the video:
We started our relationship working together.
So they knew they could work together in the real estate world, and gave it a shot in their personal lives as well.
According to HGTV.com, Tarek received his real estate license when he was just 21 years old. Christina had experience as a real estate agent before the show as well, so they probably met because they were both doing actual real estate work — not because one or the other walked into that real estate office for another reason.
According to HGTV, during the housing boom, Tarek was regularly selling multi-million dollar mansions. But when the housing bubble burst, he had to find another way to pursue real estate. He turned to house flipping, and Christina worked alongside Tarek to find and renovate homes in order to "flip" them for a profit. That's how Flip or Flop was born, and that's how viewers got to know the couple.
Now, even though the two have filed for divorce, Christina and Tarek are still filming the reality series together in Los Angeles. According to the Daily Mail, "The two seemed to be getting along well" when they were spotted on Wednesday, so maybe the fact that they worked together and got along before they were married means they can handle working together now, even though they've split up.
The publication reported that the HGTV stars have two children together — a daughter, Taylor, who is 6, and their son Brayden, who is 21 months old. And they appear to be "getting along amicably," working together both to co-parent their son and daughter and to promote the seventh season of their show.
So if they seem to be getting along, and working together often for the show, why did Christina and Tarek file for divorce? According to In Touch Weekly, it mostly came down to communication.
According to In Touch, during an appearance on the TV show The Doctors, Tarek explained:
I feel like if we had better communication, we would have had a better relationship. I think as time went on, you get busier and busier. It was like overnight: businesses, TV, all these things happened overnight, then the cancer and the back surgery. It just kind of started pushing us apart from each other.
In Touch reported that, in spite of their differences and despite the divorce, Tarek said on The Doctors, "What's most important is the family and the kids," which is a good attitude to have whenever you split from your partner and there are children involved.
In any case, it sounds like they're working hard to keep things positive even now — for the sake of their show, their kids, and their professional relationship. That can all be really tough for any couple, but especially one in the public eye in the way Christina and Tarek have been for years. Kudos to them for staying civil.