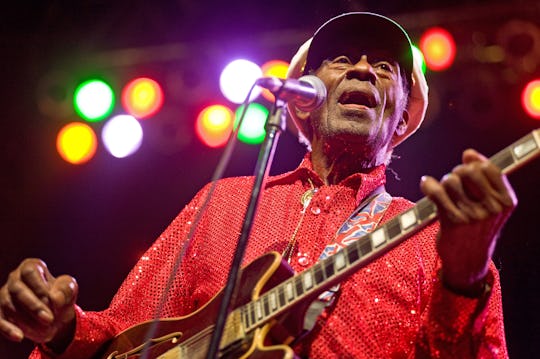 Timothy Hiatt/Getty Images Entertainment/Getty Images
Chuck Berry Has Died At 90
Chuck Berry — one of the founding fathers of rock and roll, best known for his catchy hits "Maybellene," "Roll Over Beethoven," and "Johnny B. Goode" — has died at the age of 90. The St. Charles County Police Department confirmed his death on Saturday afternoon, but did not reveal how Chuck Berry died, other than he was found unresponsive and could not be revived by paramedics after they immediately administered a number of lifesaving techniques.
The police in the eastern city of Missouri responded to a medical emergency at approximately 12:40 p.m. on March 18 and found the rock legend "unresponsive" in the home on Buckner Road. "Unfortunately, the 90-year-old man could not be revived and was pronounced deceased at 1:26 p.m.," the police wrote in Facebook post. "The family requests privacy during this time of bereavement."
Whether his worldwide fan base learns the cause of his death, it will ultimately be decided by Berry's family and loved ones. "He was an intensely private man," the St. Louis Post-Dispatch reported. However, if they do decide to share this information or choose to have an autopsy done, it will likely be a while until there is a concrete answer as it may take up to six weeks to prepare the final results, according to PBS.
At 90 years old, Berry's cause of death could be one of many things. It doesn't appear that he'd been diagnosed with any debilitating conditions in recent years, but nearly six years ago the musician reportedly felt ill during a performance in Chicago after he was checked out by ambulance medics before he took the stage, according to News One.
"An audience member at the show, however, said Berry slumped over during the show and was offstage for at least 20 minutes," News One reported at the time, when Berry was 84 years old, adding that a concertgoer said that he gave "an erratic, out-of-tune performance" and fell onto his keyboard "face first and was helped offstage."
A few years later in 2014, when Berry was given world's most prestigious music award for his career that spanned over six decades, he was reportedly "too ill" to travel to Sweden to accept the Polar music prize, according to The Guardian.
"My heart is in Sweden," he said at the time, according to The Guardian. "I understand what a great honor it is to be a recipient. I am sorry that I am unable to travel and receive this personally."
Berry is regarded as a music pioneer and with his recognizably twangy voice and instrumental expertise, he wrote and performed some of the most well-known rock classics. He lived through many hard years on his way up to fame, but he'll forever be remembered by fans and the industry as a lyrical mastermind, a legendary guitarist, and, overall, just one of the best in the business.