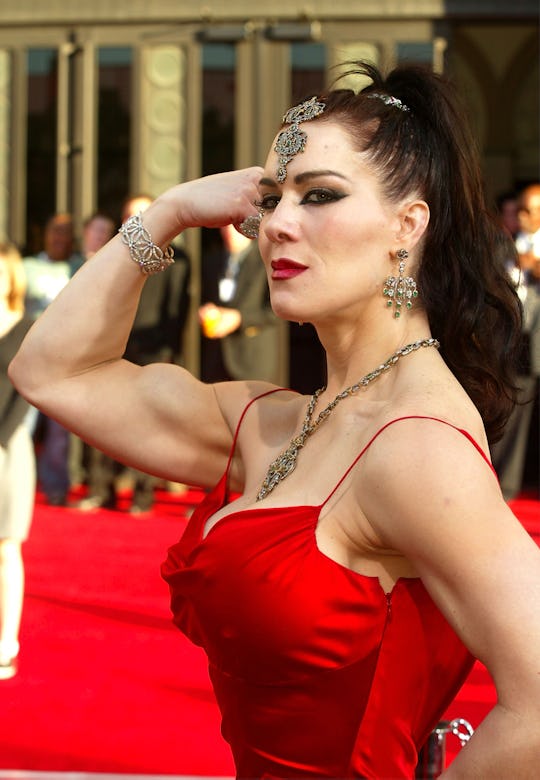 Kevin Winter/Getty Images Entertainment/Getty Images
How Did Chyna Die? Friends & Colleagues Are Sharing Heartbreaking Tributes
WWE superstar Chyna was found unresponsive in her Redondo Beach home on Wednesday, and friends and fans are reeling from her death. How did Chyna die? The cause of death hasn't been determined, according to the Los Angeles Times. After the wrestler didn't answer her phone for several days, a friend went to check on her and found her unresponsive. The police are conducting an investigation, but they do not suspect foul play.
Chyna's team announced her death on social media and on her website:
It is with deep sadness to inform you today that we lost a true icon, a real life superhero. Joanie Laurer aka Chyna, the 9th wonder of the world has passed away. She will live forever in the memories of her millions of fans and all of us that loved her.
Chyna grew up in Rochester, New York, according to her biography. She used fitness to escape the challenges of her childhood, getting her start as the only woman in the gym by her house. She went on to graduate from the University of Tampa, serve in the ROTC, and teach reading as a member of the Peace Corps. In the 1990s, she started her career in entertainment by training under Walter 'Killer' Kowalski; again, she was the only woman in the room. After joining the Professional Girl Wresting Association (PGWA), she secured the title of 1996 Rookie of the Year. With the mentorship of professional wrestlers, Chyna broke into the WWF (World Wrestling Federation), swapping her given name, Joan Laurer, for "Chyna."
In the WWF, she consistently broke barriers, holding her own in traditionally all-male competitions and becoming the first woman to go undefeated in the federation. She supplemented her wrestling career with turns as an actor, musician, and writer; her autobiography, If They Only Knew, became a bestseller. As a public figure, Chyna did not shy away from discussing her struggles with depression; according to NPR, she spoke about it openly on VH1's Celebrity Rehab with Dr. Drew in 2008.
Professional wrestlers on Twitter expressed their sorrow at the news of Chyna's death, E! reported. Chyna made her television debut with the help of Triple H. He tweeted:
Many commented on all that Chyna did for women in wrestling:
WWE's Stephanie McMahon also addressed Chyna's death in a tweet, according to CNN:
Chyna's death is a shock, but her powerful legacy will continue to shape the landscape for women in wrestling.