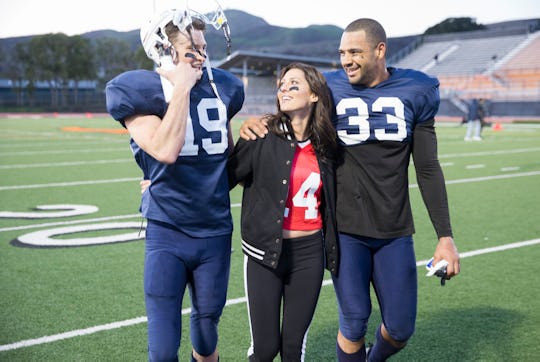 Paul Hebert/ABC
One Of Becca's 'Bachelorette' Badly Broke His Wrist On A Group Date
It's always sad to see your favorite Bachelor and Bachelorette contestants leave the show, but it's especially disheartening when they have to leave solely due to unforeseen circumstances. Fan favorite, Clay Harbor, had to leave The Bachelorette this week, but it wasn't because Becca Kufrin rejected him. He had visible chemistry with her, and their relationship could have easily blossomed into love, but unfortunately he had to leave the show due to an injury. So exactly how did Clay get hurt on The Bachelorette?
Believe it or not, the pro football player was hurt on the field playing -- you guessed it, football -- during a group date. During pre-game training and the game itself, Clay was on fire and his skills and talent really stood out from the rest of the contestants. It was when he went to score the game-tying touchdown that he severely injured his wrist.
Medics were rushed to the field, and Clay calmly explained to them that he felt that something was wrong with his wrist. He was so composed throughout that I couldn't help thinking how strong and poised he was, despite suffering such a serious injury. Even Becca seemed surprised, and as the medics checked him out, she sat right next to him with her arm around his. She told Clay:
"You're such a champ, I'd be sitting here sobbing."
After being rushed to the hospital in an ambulance, all the while remaining cool as a cucumber, Clay was referred to see an orthopedic surgeon the next day. To Becca's surprise, he made it back to the cocktail party that evening and told her that he came because he didn't want to miss the opportunity to spend time with her. After a few sweet kisses, Becca gave Clay the date rose, and said that he made her feel like a princess.
But the next day, after seeing the surgeon, Clay learned that he would be needing surgery on his wrist for it to heal properly. He was torn between leaving the show to address his health -- which would impact the rest of his football career -- or staying to see how things evolve with Becca. The decision weighed heavily on him, but ultimately he decided that he needed to do what was best for his job, because his family was depending on him for support. At the cocktail party that night, he told the other guys:
"For me, it's a tough decision because obviously I want to play football. And I love football, but also it's a way for me to make a good living so I can support who I love most in the world, and I feel like I might need to maybe leave early. But you guys know how amazing Becca is and how rare she is, and it's not like you can find a girl like her every day. If I leave, and say I have three more years of playing football and I retire and there's still no one that I've met that's there for me, and knowing that I left the opportunity to see if there was a possibility that was Becca, I know there'd be regret."
Eventually that night he told Becca that he had to leave, and they were both visibly upset. It was actually super hard to watch. I've been rooting for Clay from the beginning, not just because he's a total hunk but because he seemed to be the sweetest, most kindhearted of all the contestants. Hopefully, this isn't the last we see of Clay, and who knows... maybe he'll even make it on to the next season of Bachelor In Paradise. As for now, fans are just rooting for him to get better and succeed, both in football and in love.