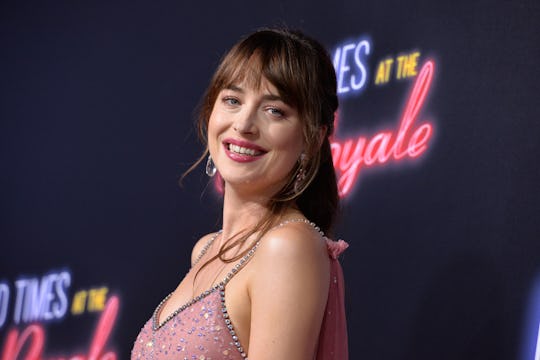 Michael Tullberg/Getty Images Entertainment/Getty Images
Dakota Johnson & Chris Martin Are An Item, But They're *Not* Expecting A Baby
Update: Us Weekly has reported that a rep for Johnson denied that she is expecting, and said that the party was a birthday celebration, not a sex reveal party.
Earlier: It looks like congratulations are in order for one celebrity couple. According to reports that started circulating on Monday, Oct. 8, actress Dakota Johnson is reportedly pregnant and expecting a baby with Coldplay's Chris Martin. But leading up to this exciting news, you might be wondering how exactly Dakota Johnson and Chris Martin met and when their romance started. Romper's requests for comment from Johnson and Martin's representatives were not immediately returned.
As TMZ reported, the 50 Shades of Grey actress and Coldplay frontman are expecting their first child together — and apparently, they've even done a sex reveal already. According to the publication, the couple hosted a sex reveal party on Sunday, at which guests arrived to both pink and blue balloon arches. Celebrity friends joined them for the celebration, according to TMZ. Among the guest list was Johnson's parents, Melanie Griffith and Don Johnson, as well as Sean Penn and Julia Roberts. Eventually, the string of blue balloons was released, presumably signifying the couple will be having a baby boy.
However, a source also told Us Weekly on Monday that Johnson is not pregnant. It's worth noting, too, that a representative for the actress confirmed the gathering with the balloons was actually a birthday party, as Us Weekly reported. So it's difficult to tell, for sure, what's actually going on at this point.
Michael Tullberg/Getty Images Entertainment/Getty Images
Kevin Winter/Getty Images Entertainment/Getty Images
Whether or not Johnson is pregnant (and it's looking more and more like she's isn't), not much is actually known about her and Martin's relationship. That's because the pair has been extremely private about this aspect of their lives. (Which is totally understandable; good for them.) As far as how Johnson and Martin ended up meeting in the first place, it seems as if they were introduced via a mutual friend, according to Sunday Express.
In mid-October 2017, they were first spotted together on a sushi date in Los Angeles. There, the pair was apparently, "cozy, laughing and affectionate," a source told People. Since then, there have been plenty of further sightings of Johnson and Martin together — including a photograph of the actress in the sound booth at a Coldplay concert in Argentina.
Aside from being spotted together — and clearly behaving as if they are a couple — the closest either of them has gotten to officially confirming their relationship was during a recent interview with Tatler. "I'm not going to talk about it, but I am very happy," Johnson told the publication.
Another fun fact: They reportedly have matching tattoos in the shape of an infinity symbol, according to Cosmopolitan. (So you know it must be serious.) Despite their remaining private about the relationship, it seems Johnson and Martin have gotten more comfortable with showing PDA in recent months. As Cosmopolitan reported, they've been spotted cuddling during a Radiohead concert, as well as holding hands while walking together in Malibu.
The timing of these pregnancy rumors is definitely interesting — considering Martin's ex-wife Gwyneth Paltrow married Brad Falchuk last weekend. Not to mention, as some Twitter followers have pointed out, Johnson doesn't seem to be sporting any hint of a bump for being far enough along to already know the sex of her reported baby. (Then again, every woman's body shows pregnancy differently.)
But still. As adorable as Dakota Johnson and Chris Martin are together, it's probably best that everyone calms down a little with baby rumors — unless it's confirmed by one of them. Because as it turns out, a party with pink and blue balloons doesn't necessarily mean a sex reveal is going down. Who knew?