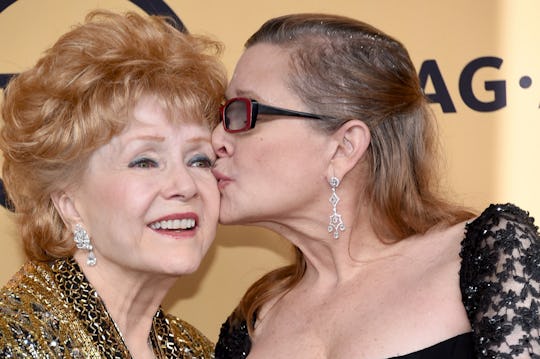 Ethan Miller/Getty Images Entertainment/Getty Images
Debbie Reynolds' Cause Of Death Was A Common One
2016 has not been kind. Throughout the year, loved celebrities and public figures — including actress and activist Carrie Fisher — were unfairly taken from this world when they died too soon. In the last few days of this whirlwind year, beloved actress and Carrie Fisher's mother, Debbie Reynolds, died at 84 years old. As the news of her death continues to sink in, people will want to know — how did Debbie Reynolds die? While some of the details still remain unknown, Reynolds was reportedly distraught after her daughter's death.
Reynolds was "rushed to the hospital" on Wednesday afternoon in Los Angeles, California according to TMZ. Reynolds had reportedly "suffered from a medical emergency" and was taken to the hospital from her son's home where she had reportedly been discussing funeral plans for her daughter. According to TMZ and Reynolds' son Todd Fisher, the beloved actress died from complications related to the stroke.
Reynolds death was truly unexpected and caused even more pain for fans, still in mourning over Fisher's death. Reynolds was an actress whose career spanned generations — from starring in the 1950's musical Singin' In The Rain to the 1990's Disney Channel classic Halloweentown. But how do strokes affect the body? And how often do people die from them? They are, unfortunately, incredibly common.
A stroke happens when the flow of blood in the body is interrupted and brain cells begin to die due to the lack of oxygen, according to the Centers for Disease Control and Prevention. Strokes can be identified by sudden numbness in the body, confusion, or by the victim having trouble seeing, trouble walking, or suffering from a massive headache. Strokes are a leading cause in death in the United States — on average, according to the CDC, one American dies from a stroke every four minutes. According to Stroke Association, strokes are the fifth leading cause of death in the United States. Not everyone who has a stroke dies from it, but according to the CDC, a stroke can cause serious long-term disability. The effects of having a stroke are lasting — depending on what part of the brain it effects, it can cause paralysis on either side of the body, memory loss, speech problems, or vision problems according to Stroke Association.
This past May, Fisher was quoted in saying she worried about her mother's age and declining health. "It's ... at times terrifying watching my mother, who's incredibly resilient, coping with certain health issues that she's had," Fisher said. Fisher described her mother as being "a little more than frail" and claimed that Reynolds had "a spine issue."
Reynold's death was untimely — she will forever be remembered and missed.