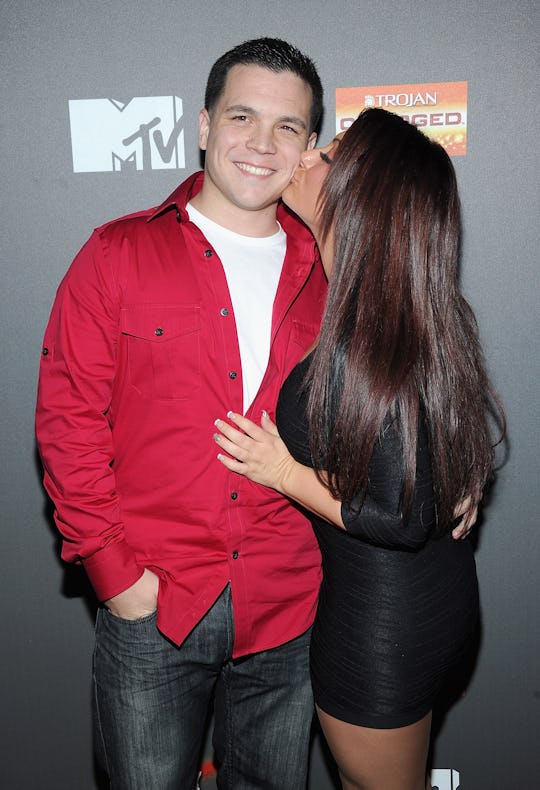 Jamie McCarthy/Getty Images Entertainment/Getty Images
Here's How Deena From 'Jersey Shore' Met Her Hubby & How Their Love Story Got Started
One of reality TV's favorite meatballs will soon welcome her own little bundle of joy. Just yesterday — Monday, July 2 — Deena Cortese from Jersey Shore announced that she's expecting her first child — a baby boy this December — with her husband, Christopher Buckner. Fans were instantly excited for the sweet couple, and given the happy news, some might also be wondering how their whole love story got started in the first place. So, how exactly did Jersey Shore's Deena meet her husband?
For diehard and longtime fans of Jersey Shore, Cortese's husband might actually be a familiar face. In fact, Cortese and her husband dated while the original Jersey Shore was still on the air, according to People, and they then tied the knot in October 2017. But, according to the couple's wedding website, they actually met many years prior. As they shared on their site, they first met in 2011 through mutual friends and the story of their meet-cute is almost straight out of a romantic comedy, in more ways than one.
Not only did they meet through mutual friends while on a night out, according to the same entry on their website, but the couple actually almost didn't even get together. Seriously.... How much more rom-com-esque can you get? Fast forward to now and they're getting ready to welcome a new little one into their lives. And if you somehow missed their announcement, you'll want to have a look because it was just as cute as you'd expect. Well, maybe more so.
On Monday, Cortese shared an absolutely adorable post on Instagram of her and husband announcing their big news, and fans were ecstatic for them. "Now that we are safely into our second trimester.. us and our little monkey are ready to tell the world," the expectant mom teased on Instagram, along with a series of photos of the couple and their dog. "Our little family is growing," she announced.
But that's not all Cortese announced on Instagram. Fortunately for fans, the mom-to-be also revealed the name that they had already decided on for their little love. So, what is it? "Daddy and Mommy can't wait to meet you Christopher John," the expectant mom wrote. As Cortese's husband's name is also Christopher, it's clear that the couple is honoring the soon-to-be dad with their son's name. And with a love story as sweet as theirs, one would only expect that they would choose a meaningful name for their son.
While they were spotted together during Seasons 5 and 6 of Jersey Shore, they didn't just immediately get together. In fact, on the night they initially met, Buckner actually left early and Cortese got so curious, she ended up finding him on Facebook and then added him as a friend, as the couple shared on their website. Apparently, Buckner was a little shellshocked that he had met one of the stars of Jersey Shore and his family didn't even believe that he had met Cortese until she added him on Facebook.
After that, the rest is history. And soon, Cortese and Buckner will enter a new exciting chapter in their lives when they welcome their baby boy this winter. "We Are truly blessed and our hearts are filled with so much joy and happiness," she wrote in her Instagram post revealing her pregnancy. "December can't come soon enough!"
With a love story that involves little Facebook stalking, it's clear that Cortese and Buckner are meant to be and baby boy Christopher is already so lucky to have parents who are so clearly completely in love with him.