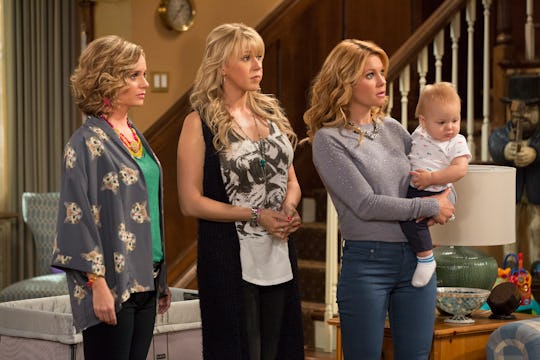 Michael Yarish/Netflix
How Did D.J.'s Husband Die? It's As Wholesome A Death As You'd Expect For 'Fuller House'
One of the most surprising revelations to come out of the premiere of Fuller House is that the eldest Tanner daughter, now Tanner-Fuller, is actually a widow and mom to three boys. So how did D.J.'s husband die? As the premiere unfolds, we learn that Danny Tanner is about to put the Girard Street home up for sale. The Tanner family reunites for one last shebang: Uncle Joey, Uncle Jesse, and even Rebecca and the twins, Alex and Nicky are there. As the old gang gathers around the breakfast table, D.J. thanks her dad: "I could have never gotten through this past year without your help. We really appreciate you taking us in."
As D.J. reunites with her little sister and Tanner middle child, Stephanie, the two have a heart-to-heart about how D.J. is doing after the passing of Mr. Fuller. D.J. replies fairly matter-of-factly: "I have three boys who count on me for everything, so I can't worry about the things I can't change. My husband died doing what he loved: fighting fires and helping people. He'd want me to be strong." Her husband's death sets up the premise of the show, D.J.'s true fears of making it on her own with her boys are revealed over a baby monitor, as seen in the trailer:
But let's get back to how D.J.'s husband died: In some ways, I feel like this is exactly how D.J. would have broken the news to her three boys — her simplified description feels like she's explaining it to a child. But would you really expect anything else for the whitest family in TV sitcom history? (Or, as Kimmy Gibbler's biracial daughter, Ramona, calls them in a later episode: "the whitest family in America, like an albino drinking milk.")
Of course Fuller House would tackle the topic of D.J.'s husband's death as white-washed and sugar-coated as possible; it's the same thing they did with D.J.'s mother's death. We never really saw or heard very many references to Pam, Danny's late wife, throughout the original Full House — but when we did, they packed as much of an emotional wollop as the sobering news about D.J.'s husband 20 years later. Get a tissue ready for this clip from the 1989 Full House episode, "Goodbye Mr. Bear:"
In the Full House premiere episode, Danny Tanner's wife has died, leaving him with three girls on his own — note the parallels to the Fuller House premise — she was killed in a car crash by a drunk driver six months after his youngest daughter, Michelle, was born. It's a very sympathetic story line: You can't help but feel for the Tanner family with such tragedy like that. D.J.'s husband died in service to others as a firefighter: It's hardly a copout as far as a death backstory is concerned, but it is about as wholesome of a death for D.J.'s husband as you could expect from a show like Fuller House.
And it's obvious that it's not a very recent death either, as D.J. hardly seems an overtly grieving widow. Or, maybe she's just taken the advice of someone close who can relate to life after a spouse dies:
In any event, let's not pretend we don't know the real reason D.J. starts off the next chapter of Fuller House as a widow — it's the perfect expositional device to drop in a little romance story later on down the line — perhaps by way of her old high school boyfriend, Scott Hale. We'll just have to wait and see if D.J. becomes Mrs. Tanner-Fuller-Hale.