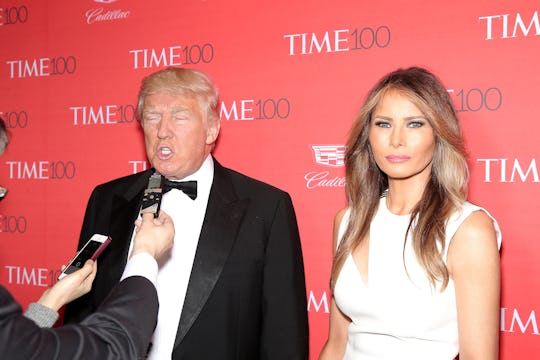 Neilson Barnard/Getty Images Entertainment/Getty Images
How Did Donald & Melania Trump Meet? It's A Fairy Tale Story With One Small Hiccup
Business mogul Donald Trump is the only nominee left in the race for the Republican candidacy, and it's now a very real possibility that he could make it to the White House. If he somehow managed to clinch the presidency, he'd be bringing ex-supermodel Melania Trump to 1600 Pennsylvania Ave. with him as the First Lady. Naturally, people are curious about the couple and the beginning of their 10-year marriage: How did a 52-year-old real estate businessman end up dating a 28-year-old Slovenian model? In other words, how did Donald and Melania Trump meet? It's definitely not a "meet cute" story.
Picture a Fashion Week party, hosted by the founder of a model management agency, in November 1998. Donald Trump spots Melania Knauss across the room. "I saw Melania and I said, 'Who is that?'" Trump told People. "She was a very successful model. She was terrific. I tried to get her number, and she wouldn't give it to me."
The story is almost a classic rom-com beginning, except for one thing: he had already arrived at the party with a date. "I had heard he was a ladies' man, and so I said, 'I'm not one of the ladies,'" Melania told People. "He said later that he sent her [his date] to the ladies' room so he could get my number. I was like, 'Oh what a sneaky way!'"
She wouldn't give him her number, but she said she would take his. According to Harper's Bazaar, Trump gave Melania all of his phone numbers: to his office, to his New York apartment, to his Mar-a-Lago estate. A few days later, she called him, and the two went out to Moomba, a celebrity hotspot at the time. "I was struck by his energy," she told Harper's Bazaar. "He has an amazing sense of vitality."
The rest, as they say, is history. They married in 2005, and their son Barron was born the following year. According to Melania, it's a relationship that's still going strong. "He is a romantic guy," Melania told Entertainment Tonight in 2013. She said,
It's a different romance than maybe some other people [have] but he's [a] very different man anyway... but we have a great relationship and we are both very independent. We love what we do... and that's the most important [thing]. [We] have great quality time together.
It looks like Trump managed to sneak his way into Melania's heart — just like he might weasel his way into the presidency.