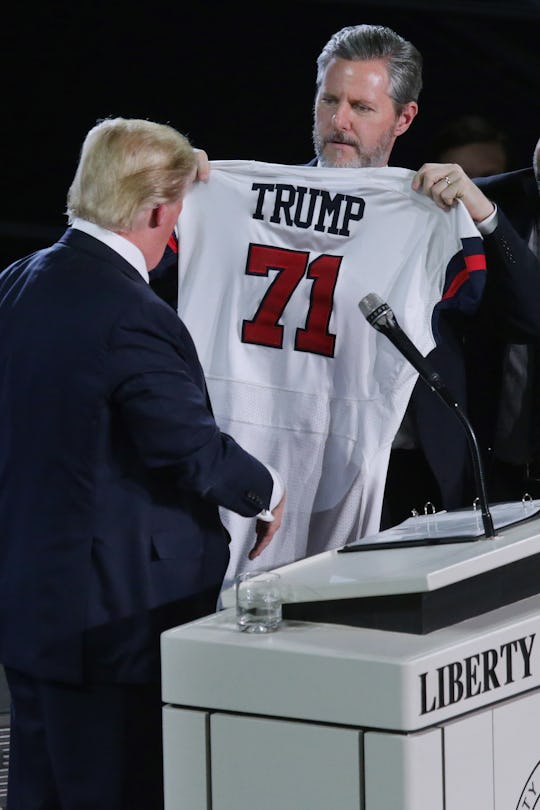 Chip Somodevilla/Getty Images News/Getty Images
How Did Donald Trump & Jerry Falwell Jr. Meet? Trump Gave A Speech On Falwell's Behalf
The final round of speakers for the Republican National Convention will conclude with Donald Trump's official acceptance of the presidential nomination. Before this final event, Liberty University president and noteworthy evangelical conservative Jerry Falwell, Jr. will speak on Trump's behalf. Falwell's religious background appears to run counter to a lot of Trump's personal life as well as the ethics that inform his policy, but Falwell has supported Trump's candidacy from the beginning. With a bond that appears to be so unwavering, one might wonder: how did Donald Trump and Jerry Falwell, Jr. meet?
In 2012, Trump spoke at Liberty University's convocation in Lynchburg, Va. After this meeting, Trump wrote Falwell a "personal note." From this initial interaction, Falwell developed a particular fondness for Trump, telling Fox News: "he reminds me so much of my father." Falwell has made similar, paternal connections in speaking with The Washington Post, elaborating that Trump conducts himself as if "he never met a stranger," insisting that "he really doesn't act like a billionaire." On day three of the convention, Falwell spoke of his allegiance with Trump to Steve Inskeep of NPR. Inskeep searched for the particular reason why the two men who appear to hold very different values might possess such a strong connection. Inskeep investigated: "Is his business background and your current work part of the reason you felt a bond with this guy?" Falwell responded: "Big part, big part of it."
Falwell's initial endorsement of Trump made waves within the Christian community, causing a bit of an uproar among Christian religious figures who view Trump's views and actions as un-Christian. In the aforementioned NPR interview, Falwell explained that, in this election, he believes "Evangelicals and conservatives are voting as Americans," choosing to prioritize "immigration," "terrorism," and "jobs" over the "social issues" that typically guide one's vote. Falwell believes there are more relevant issues to focus on that aren't explicitly dictated by his traditional, evangelical beliefs.
Falwell's faith in Trump remains unflappable. When Trump and Falwell met, Trump gave a speech for Falwell's university, and now it seems that Falwell is returning the favor tenfold by speaking on Trump's behalf at the convention. The meeting of minds and shared "business background" reveals that the two share more common ground than perceived. Falwell has said that Trump "lives a life of loving and helping others as Jesus taught in the great commandment" — the most glowing endorsement that a Christian, religious leader could be expected to give.