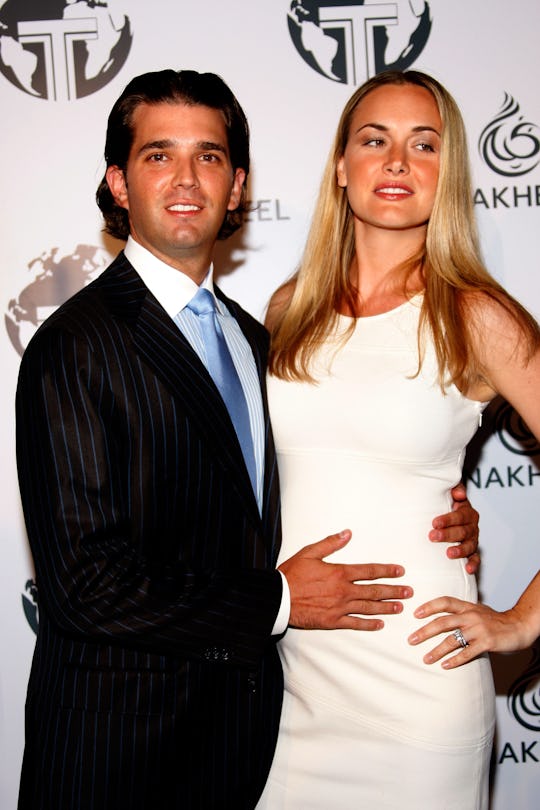 Frazer Harrison/Getty Images Entertainment/Getty Images
How Did Donald Trump Jr. and Vanessa Trump Meet? Hint: His Father Was Involved
Donald Trump wears many hats: Millionaire real estate mogul, reality television star and, most recently, Republican nominee. But did you know that Trump has also played cupid? How did Donald Trump Jr. and Vanessa Trump meet? Hint: his father was involved.
It's a funny story. Love was in the air for the Trump family in 2005. Patriarch Donald Trump, fresh from his winter wedding to his third wife six months prior, was responsible for yet another nuptial. His 27-year-old son and heir to the Trump family business was following in his father's steps and marrying a supermodel of his own.
Donald Jr. was at a fashion show with his father when his father first introduced him to Vanessa Hayden, a New York City model, at the start of a show. Trump was so smitten with Hayden, he re-introduced his son to her at intermission. "Donald comes back up to me again, 'I don't think you've met my son Donald Trump Jr.,'" Vanessa Trump told The New York Times. She remembered responding, "Yeah, we just met, five minutes ago."
It was not love at first sight. The couple had to be introduced a third time — at a party by a friend — in order to pursue the relationship. This bizarre turn of events set the stage for what is by all accounts a successful relationship. Donald Jr. and Vanessa have been married for nine years and have five children together.
Haydon is credited with brining Donald Jr. back into the spotlight, according to the New York Times article. After they started dating, the normally reserved executive began appearing in the New York City charity ball circuit.
On Tuesday, Donald Trump's eldest son will take the stage at the Republican Convention in an attempt to rectify his family's image. It's been a tough start to the week for the Trump clan. On Monday, Melania Trump's much anticipated speech kicked up a storm after accusations that the aspiring first lady plagiarized a 2008 speech by Michelle Obama.
But Donald Jr. is perhaps the person best fit to give voters an inside look into the Republican nominee. Donald Jr. has been outspoken about his support of his father's campaign on radio and television. He certainly has a lot to thank his dad for.