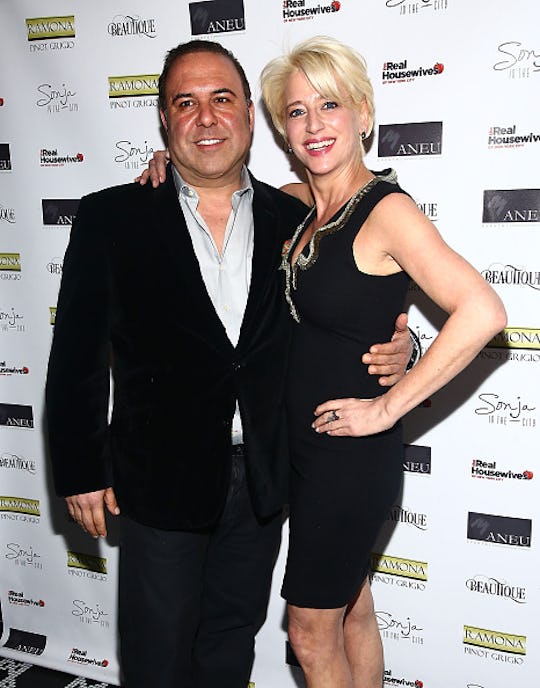 Astrid Stawiarz/Getty
How Did Dorinda Medley & John Mahdessian On 'Real Housewives' Meet? It's A Long Story
In the first few episodes of the Real Housewives of New York this season, a lot of the drama has circulated around Dorinda's boyfriend, John Mahdessian, famous in Manhattan for his couture dry cleaning business, Madame Paulette. Last season he created waves for some questionable behavior, including getting a little handsy with Kristen Taekman, and for appearing out with the boys without Dorinda, sparking the now infamous line from Sonja Morgan, "What are you doing here without Do-Rin-Dah?!" The drama involving John might lead you to wonder how these two even came about, so just how did Dorinda Medley meet John Mahdessian on Real Housewives?
This season, it looks like the boyfriend is already having some issues with New York Queen Bee, Bethenny Frankel. The two got into a nasty screaming match in Episode 3, and in the previews for Episode 4, their feud doesn't seem to have cooled a bit. At her party in the Hamptons, Bethenny breezes right past him as he awkwardly stands to the side for what seems like an hour, an anticipatory half-smile on his face, waiting for a greeting. Bethenny seems to be wondering (and frankly so do I), what does Dorinda see in him? How did Dorinda and John meet in the first place?
As Dorinda explains it, their relationship begins to make more sense. The two met, ironically enough, through her late husband, Richard Medley. Dorinda was once meeting Richard at a small members only club in Manhattan, and found him there with John. They began to see John often at the club, and they maintained a sort of casual acquaintance. Some time after Richard passed away, Dorinda and John ran into one another. Reportedly, John asked Dorinda how Richard was, and she had to explain that he had passed. John took her to lunch, and the friendship that formed thereafter became so close that it eventually developed into the relationship they have today. At least, that's how Dorinda tells the story.
It's still pretty unclear where their relationship will go from here. Last season, it seemed as if John was ready to propose and lock the whole operation down. Dorinda, however, has remained fairly vague and ambivalent about the whole idea. "I'm not particularly looking for a husband," she said in a confessional.
Whatever the future of their relationship is, it looks pretty solid right now. Bethenny may claim to "know it all," but maybe she knows less about this pair than she thinks. Or maybe she's right.