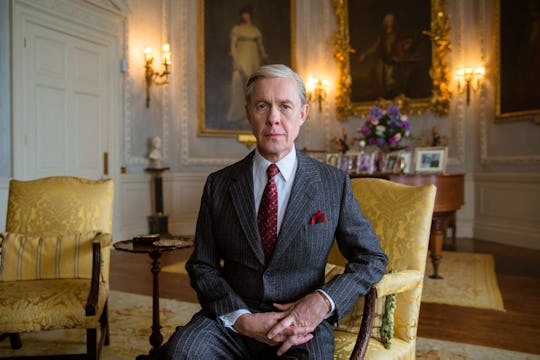 Robert Viglasky/Netflix
'The Crown' Examines The Surprising Relationship Between Edward VIII & Hitler
While The Crown definitely paints the royal family in a positive light, it proved in the second season that it won't back down from tackling uncomfortable subject matters. This becomes clear in Episode 6 when Queen Elizabeth confronts her uncle, former King Edward VIII, about his apparent ties to Hitler and the Nazis. But how did Edward VIII and Hitler know each other? The Crown examines their relationship, and more importantly, how Elizabeth chooses to deal with the information. Romper has reached out to Buckingham Palace regarding the accuracy of this storyline, but did not receive a response at the time of publication. (Update: The Palace has declined to comment.)
It all started when Elizabeth learned of the existence of the Marburg Files and the extent of her uncle's former dealings with Hitler and the Nazi party. She may be an understanding person, but understandably, this proves to be something she simply cannot forgive, even though she wants to, deep down. The outlines of the episode are all based in fact. The Marburg Files are real, and Winston Churchill reportedly did try to suppress their publication, worrying that it would call the Duke of Windsor's real sympathies into question, even contacting American President Dwight Eisenhower for support in the cover up. The files were published, as in the show, in the mid 1950s. As far as everyone's true internal feelings on the matter are concerned, that remains a matter of speculation.
What is unquestionably true is that Edward VIII, or "Uncle David" as the show styles him, visited Nazi Germany and Adolf Hitler in 1937 alongside his wife, Wallis Simpson. In an article on the BBC's website, Royal Biographer Andrew Morton explained how the visit came to be. The Duke was forced to abdicate the throne when he refused to give up his relationship with Simpson, who the crown felt was an inappropriate match for the king because she had been twice divorced. The Duke accepted an invitation to visit Nazi Germany because he saw it as a diplomatic visit and a way of legitimizing his position as a member of the royal family. He wanted Simpson to experience what it felt like to be treated as royalty — which she certainly was in Germany.
While the Duke may not have been an official member of the Nazi party, Morton does not mince words when describing his sympathies. "But he was certainly sympathetic," Morton stated, according to BBC. "Even after the war he thought Hitler was a good fellow and that he'd done a good job in Germany, and he was also anti-Semitic, before, during, and after the war."
In the show, Elizabeth is appalled to learn that the Duke had expressed doubts about English victory in World War II, going so far as to suggest that bombings should continue until England was subdued and could thereby find peace. The same BBC article claims that he contacted Hitler in 1939 in an attempt to find a peaceful solution, and attracted attention during visits to the United States, as well as expressed pessimism about the war's outcome.
All of this suggests that while the Duke and the Fuhrer were not exactly bosom buddies, if given the choice Edward VIII may have chosen to side with Hitler rather than Britain, especially if it resulted in putting him back on the throne, as The Crown suggests. The Duke died in 1972, so it's difficult to say whether he really knew about the plan or not. But the photos of him with Hitler cannot be denied and they're something I will never be able to unsee.
Check out Romper's new video series, Romper's Doula Diaries:
Watch full episodes of Romper's Doula Diaries on Facebook Watch.