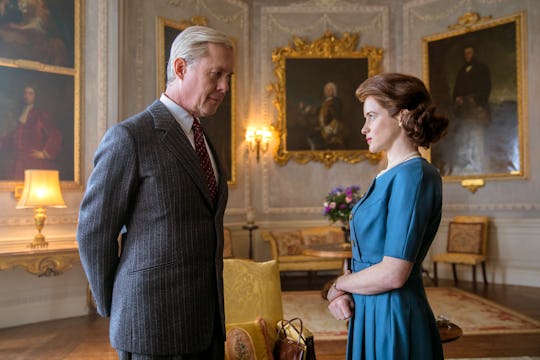 Robert Viglasky/Netflix
'The Crown' Revisits Edward VIII's Trip To Nazi Germany
In "Vergangenheit," The Crown explored long-held suspicions that Edward VIII and his wife Wallis Simpson may have been Nazi sympathizers. The episode even concluded with a montage of the real Edward touring Nazi Germany and standing beside Adolf Hitler. But how did Edward VIII and Hitler meet? Edward told one story in the episode, but he doesn't always stick to the truth and his account may have been fictionalized for the show as well. Romper has reached out to Buckingham Palace regarding the accuracy of this storyline, but but did not receive a response at the time of publication. (Update: The Palace has declined to comment.)
Edward had been a major figure on The Crown throughout its run, because if he hadn't abdicated the throne then Elizabeth never would have had the chance to ascend to it. He was often self-absorbed and callous regarding his family, but his occasional moments of insight had softened Elizabeth's feelings toward him. In Season 2 Episode 6, she was seriously considering allowing him to return to public life — up until the moment she received some information about what he was doing in the years leading up to WWII.
Edward played off his involvement with Hitler as a world leader who simply wanted peace. According to him, at the time he had no idea what Hitler would become; he just wanted to maintain peaceful relationships between their countries. However, Tommy Lascelles told a different story. He revealed to Elizabeth that Edward had gone so far as to tour concentration camps in the early days of the war.
The Crown did navigate the rumors and the real events with accuracy, at least based on what historians have had to say about Edward's 1937 meeting with Hitler. It occurred shortly after Edward and Simpson's wedding, when he was feeling particularly resentful over the fact that his marriage and abdication meant he had to live in exile. Royal historian Carolyn Harris seemed to support fictional Edward's claims of having peaceful motives when meeting with Hitler. She explained to BBC News that Edward saw an unofficial state visit to Germany as a chance to remain involved in public life.
Harris said, "The Duke of Windsor [Edward's official title] was familiar with Germany — he had numerous relatives there — and seems to have envisioned a diplomatic role for himself as a mediator between Britain and Germany." According to her, he thought diplomacy would have a positive effect for both countries.
There was another reason why Edward apparently wanted to visit Nazi Germany: so that Simpson, whom no one in his family approved of, could feel like she was truly the wife of a king. Simpson was even more restricted from state matters than Edward was, and royal biographer Andrew Morton claimed she was treated like royalty in Germany. That was not the case in England, something Edward didn't appreciate. But while hesitating to call Edward a Nazi, Morton did make it clear that he wasn't opposed to the party.
"But he was certainly sympathetic," Morton told BBC News. "Even after the war, he thought Hitler was a good fellow and that he'd done a good job in Germany, and he was also anti-Semitic before, during, and after the war."
The Guardian reported that Winston Churchill tried to destroy telegrams that revealed a Nazi plot to install Edward on the throne again, something Edward himself called "complete fabrications" when the information finally came out. The telegrams seemed to indicate that Edward and Simpson were aware of the plan, despite what Edward said. As explained in The Crown, he was assigned to a position in the Bahamas essentially to keep him out of trouble.
While some may believe Edward's decision to meet with Hitler had good intentions, the pictures really do speak for themselves.
Check out Romper's new video series, Romper's Doula Diaries:
Watch full episodes of Romper's Doula Diaries on Facebook Watch.