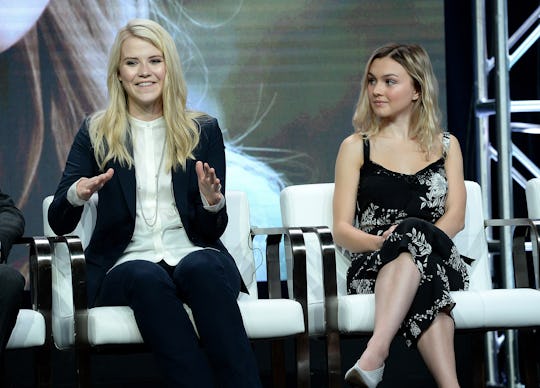 Michael Kovac/Getty Images Entertainment/Getty Images
Elizabeth Smart Played A Pivotal Role In Escaping Her Abductor
Elizabeth Smart is producing and narrating a new Lifetime movie called I Am Elizabeth Smart, which dramatizes her 2002 kidnapping. She was just 14 years old when a man named Brian David Mitchell woke her up at knifepoint in her childhood bedroom and told her to follow him outside or else he would kill her and her entire family. What followed was nine months of horrifying physical and sexual abuse. So how did Elizabeth Smart escape? She played a pivotal role in getting to the right place at the right time.
When Mitchell first led Smart out of her bedroom, he took her to an encampment he had set up with his wife, Wanda Barzee, just a few miles from Smart's Salt Lake City home. There, he forced her to change into robes and "marry" him in a religious ritual. Afterwards, he raped her and, according to testimony she gave in his trial, he would continue to rape her up to four times a day for the remainder of her time in captivity. The rest of her time she spent tethered to a tree by a cable. At one point, Mitchell moved Smart to Lakeside, California, but she convinced the one-time homeless preacher and self-professed prophet that God told her they should go back to Utah. Moving closer to her hometown, where media coverage of her kidnapping was more widespread, was instrumental in her rescue.
Smart came close to rescue many times, but adults who observed her with Mitchell assumed she was either his daughter or his actual wife and failed to act on their suspicions. Once, she ran away from the campsite, but Mitchell apprehended her and she was punished. When she was first kidnapped, Smart heard a search party calling out for her in the woods, but Mitchell threatened her into silence. He eventually began traveling into town with Smart, disguising her in a wig, scarf, and glasses. She once scratched a plea for help in the bathroom stall of a Hard Rock Cafe.
A Salt Lake City homicide detective named Jon Richey responded to a report that someone who looked like Elizabeth Smart was spotted at a local library with Mitchell. Richey questioned him right in front of the girl, but Mitchell said it would violate their religious beliefs to lift her veil, so the detective let it go. Later, a retired police officer in California noticed something was off with the trio and reported it to both a sheriff's deputy and the FBI. But neither of them apprehended Mitchell after speaking with him. A Navy veteran named Trevelin Colianni also spotted the group at a Burger King in Las Vegas and thought Smart looked like she was in trouble. He, too, called the police.
A few days after that, Mitchell was finally recognized at a Walmart in Sandy, Utah by a couple who said they saw him on America's Most Wanted. Police approached him and, at first, Smart denied her identity, saying that her name was Augustine — the name Mitchell had given her. "I know you think I'm that Elizabeth Smart girl who ran away, but I'm not," she reportedly told officers.
But once she was separated from Mitchell and told her father was on his way, she took off her disguise and told police who she really was. Her family confessed that she was unrecognizable to them when they were finally reunited with her, nine months after she first went missing. She looked homeless, her parents said. But once she was rescued, Smart recovered from her ordeal remarkably. She went to college, wrote a book, got married, had two kids, and now works as an activist advocating for survivors of kidnapping. And her hand in making this new Lifetime movie ensures her story will be told on her terms.
Check out Romper's new video series, Romper's Doula Diaries:
Watch full episodes of Romper's Doula Diaries on Facebook Watch.