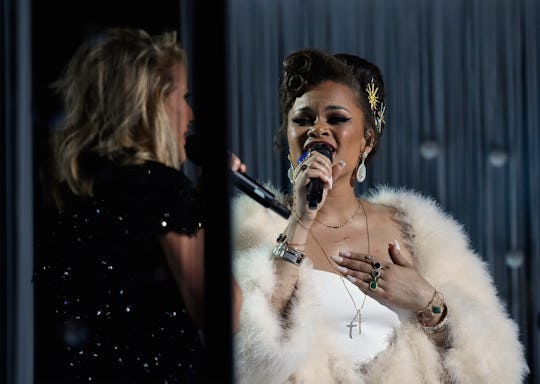 Kevork Djansezian/Getty Images
How Did Ellie Goulding & Andra Day Meet? They Had Such Chemistry On Stage
This year's Grammy performances were all about the duets, but no one charmed the crowd more than Ellie Goulding and Andra Day, who sang Goulding's single "Love Me like You Do." Day brought the British singer on stage, introducing her as "her new friend." Of course, Twitter immediately started to wonder how Ellie Goulding and Andra Day met. One user pretty much summed up everyone's feelings about the new buds writing that, although she said "my new friend," Day really meant "meet Ellie, whom I was randomly assigned to sing with and don't know."
Uh, that sounds pretty much accurate, TBH. According to an extensive Google search, the singers had never never met before their scheduled rehearsals for this year's award ceremony. But who cares? Day did say "new friend," right? She didn't say that her and Goulding have been hanging out all year, singing Taylor Swift songs to each other. (Although that would be pretty cool if they did. Just saying.)
The two performed a very slowed down version of the hit single, which was nominated for Best Pop Solo Performance. Day was also up for two awards, Best R&B Performance for her song "Rise Up," and Best R&B Album for Cheers to The Fall. However, Goulding's award went to Edward Sheeran for "Thinking Out Loud" and Day lost to The Weeknd and D'Angelo, respectively.
Here's a recap of the performance:
But the ladies didn't seem fazed by their losses, or at the fans on Twitter teasing them about being BFFs.
Whether they're friends or not, their performance was one to remember. (And it'll no doubt be the start of a friendship.)