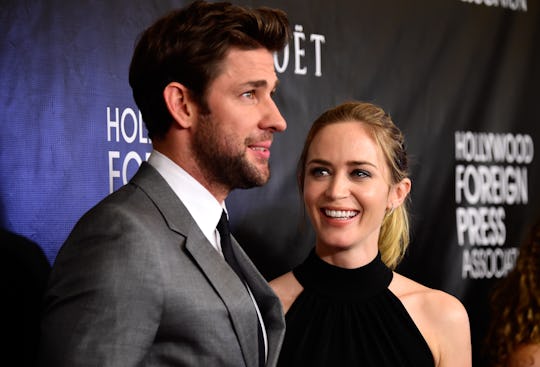 Frazer Harrison/Getty Images Entertainment/Getty Images
How Did Emily Blunt & John Krasinski Meet? Krasinski Says It Was A "You Just Know" Moment
For any fans of The Office, it's hard to imagine John Krasinski with anyone other than Pam. But, if he has to be, Emily Blunt is pretty much as good as it gets. She's incredibly badass, cool, and, obviously, extremely talented. Blunt was nominated for an Oscar for her role in Sicario, and, most likely, Krasinksi will be her date on the red carpet. But, let's rewind a little: how did Emily Blunt and Jon Krasinski meet?
It seems fitting that Krasinski's romance saga with Blunt sounds like the premise for a show, in that it seems too good to be true. According to Krasinski, it was a classic case of love at first sight. In 2011, when Krasinski went on The Ellen Show, he spilled the beans about that first moment:
It was one of those things where I wasn't really looking for a relationship and I was thinking I'm going to take my time in L.A. Then I met her and I was so nervous. I was like, 'Oh god, I think I'm going to fall in love with her.' As I shook her hand I went, 'I like you.'
Yes, in the clip, he's blushing. He said, "it's one of those things where as soon as you meet someone you kind of know." It wasn't long after that they began dating. That was 2008.
In other interviews, Krasinski has credited The Office for indirectly bringing he and Blunt together. Right before he landed the role as Jim Halpert, which would come to define his career, he was down and out. He considered getting out of the acting game altogether. But, he got that role, moved to Los Angeles shortly thereafter, and met Blunt there. He reflected back on the happenstance of all that while talking to Matt Lauer on the Today Show.
It's a little bit of an existential crisis after a while, because I wouldn't have met my wife, I wouldn't have been out in L.A. Truly, when I say the show has given me everything, it's given me everything.
How did he seal the deal? In 2012, he told Conan O'Brien that the first date they ever went on was at a gun range. Sparks were literally flying.
Apparently he didn't think it was going to work out.
On our first date, I decided, 'I'm gonna really hit the gas and bring her to a gun range.' I think that I was so sure that I would never end up with her... that I was like, 'You know what, I'm gonna blow it right away and then that way you don't feel bad.'
But what's Blunt's side of the story? Though she hasn't dished on that first meeting, she seems completely enamored of Krasinski. She told InStyle, "Meeting John really changed my life. When I feel the support that I have from him, I feel invincible." She must have really been channeling that when she filmed her Oscar-worthy performance in Sicario. In the film, she's unlucky in love: divorced, stressed, someone she dates tries to assassinate her — all the usual problems. It's easy to imagine needing a supportive partner, like Krasinski, for such a physically and emotionally draining role.
Since that first gun range date, the two have been married, have a daughter named Hazel, and are expecting a second child. The adorable couple will likely look amazing on the red carpet at the Feb. 28 Oscars.