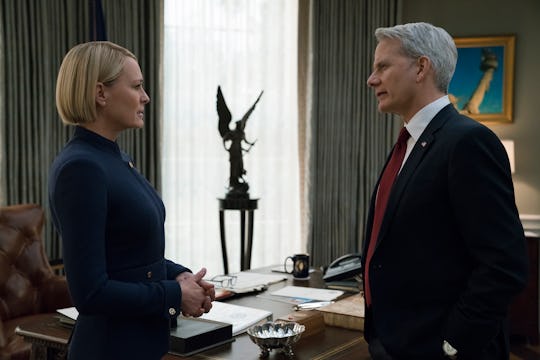 David Giesbrecht/Netflix
Frank Underwood's Death Is Still A Mystery On 'House Of Cards'
Americans have yet to see a female president, but for now they can enjoy seeing Claire Underwood take on the title of POTUS on the sixth and final season of House of Cards. In a series of trailers for the upcoming season, Claire is seen standing over Frank's grave and (sort of) mourning his death, but exactly how did Frank Underwood die on House of Cards?
Frank is dead and buried in Season 6, but how he died is yet to be seen. Claire doesn't look too heartbroken over his death, which adds to the mystery of how it went down. In one teaser from Netflix, Claire Underwood (Robin Wright) stands over Frank's headstone, which lays next to his father's grave. The headstone reads: "Frank Underwood, 1959-2017. 46th President of the United States." Claire ironically repeats the dialogue Frank spoke at his father's grave in Season 3. "I'll tell you this, though, Francis: When I die, they won't bury me in my backyard," she says. "And when they come to pay their respects, they'll have to wait in line."
How Frank died won't be revealed until the new season begins, but there are some speculations. Season 5 ended with Frank (Kevin Spacey) disgraced by a murder investigation, and Claire's refusal to offer him a pardon. Both Frank and Doug (Michael Kelley) were facing charges for the murders of reporter Zoe Barnes and Rep. Peter Russo, so he resigned from the presidency, and asked his Vice President, Claire, to take over. Once she was President, however, Claire took on an agenda of her own, and it was clear she had no intention of saving Frank.
Facing so much disgrace, it's possible that Frank took his own life, but it's also possible that someone killed him to get him out of the way. After Claire killed her lover, Tom Yates (Paul Sparks), for threatening to expose her secrets, it's not far fetched to theorize that she also killed Francis to give her a clean playing field as President. In a trailer for Season 6, Claire is seen speaking to crowd, where she basically undermines Frank's reign. "Here's the thing. Whatever Francis told you the last five years, don't believe a word of it. It's going to be different for you and me." It's clear that she's severed all political ties with her husband, but fans will have to wait and see if she was actually responsible for his death.
Frank's death on the show doesn't come as much of a surprise. The show runners indicated earlier this year that they would film the final season without Spacey, reported Variety. After the actor was accused of sexual assault by Star Trek star Anthony Rapp, Netflix and Media Rights Capital (MRC) halted production of the series and severed their ties with Spacey. According to The Hollywood Reporter, Netflix issued a statement revealing that they would not be "involved with with any further production of House of Cards that includes Kevin Spacey." And MRC released their own statement confirming his suspension. "While we continue the ongoing investigation into the serious allegations concerning Kevin Spacey's behavior on the set of House of Cards, he has been suspended, effective immediately. MRC, in partnership with Netflix, will continue to evaluate a creative path forward for the program during the hiatus," the company wrote.
The creative path the network ultimately took was to finish up the series with Robin Wright at the helm, but in an interview with NPR, the showrunners revealed that Frank's presence will still be felt. "Just because the character Francis Underwood is not on the screen doesn't mean his essence is not on the screen," said executive producer Frank Pugliese, with co-creator Melissa James Gibson adding that Claire will be seen addressing her past with him as she tries to forge her own future.
As a fan of the series, I'm excited to see Claire take charge this season, and I can't wait to find out how and why Frank died. Luckily, the season premiere is right around the corner.
The sixth and final season of House of Cards premieres on Nov. 2 on Netflix.