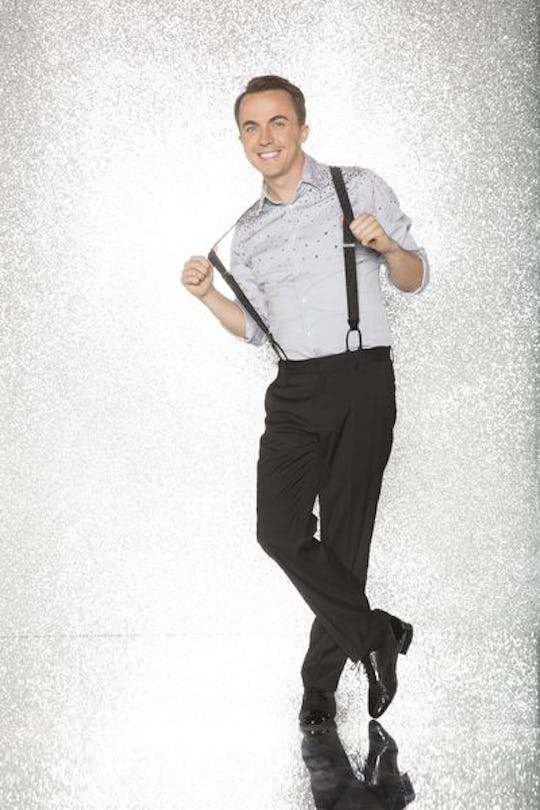 Craig Sjodin/ABC
Frankie Muniz Opened Up About His Back Injury On 'Dancing With The Stars'
If you wondered what Frankie Muniz was doing all those years after Agent Cody Banks and Malcolm in the Middle, the answer is: a lot. And not all of it appears to have been totally safe. So how did Frankie Muniz break his back? The actor reveals on Dancing with the Stars that he suffered a major injury, and it could affect how he performs in the competition moving forward.
Muniz may have started his professional career as a child actor, but he is obviously a man of many interests and talents. After he largely disappeared from the public eye some ten years ago, Muniz played drums in a band called Kingsfoil, and he also was a professional race car driver. You know, as you do. Unfortunately, race car driving can be a terribly dangerous sport considering all the crashes that happen. After one such disastrous crash, Muniz suffered a serious back injury. Even though these injuries have healed by this point, he can still feel the side effects from the crash. While, of course, he plans to power through the pain while dancing (his first time dancing in front of an audience) it may still be a big hurdle to overcome.
According to Us Weekly, Muniz actually broke a lot more than just his back. He told the outlet, "I broke my ribs, I broke my back, ankle. I tore my meniscus two months ago. I'm a walking disaster," he said. "I'm taking this so seriously. I literally am dedicated to icing, sauna, whatever I can to heal so I'm ready for the next day." That is a lot of things to break, Frankie Muniz, and I am worried. He told People, "I think we talk about my injuries every day because I have a creaky, old body. I'm 31 but feel like I have the creaky, old body of a 71-year-old." But he's not going to let that slow him down. He added:
But I'm doing whatever it takes to take care of my body so I can continue dancing. I've raced Indy cars, I've played every sport, I consider myself a pretty athletic person, but I'm so sore. I'm so dead. I'm in the sauna, I'm icing. Everything that I'm doing every minute of the day is to make me a better dancer in this competition and make it to the end.
Generally, athletes like Muniz tend to do really well in the competition of Dancing with the Stars. They understand what a hard workout looks like, they tend to understand their own bodies better, and they're good with criticism. Muniz may not have the grace and the technique of professional dancers yet, but he's definitely doing everything in his power to make sure he gets there. And his partner Witney Carson is totally enthusiastic about him. "This guy is amazing," she said in the same People article. "He's so hard working and wants to do the best that he can. We're having a blast."
Muniz made his ballroom debut with a Foxtrot to Harry Styles's "Sign of the Times," and scored solidly in the middle of the pack. Week Two, the dancers have to learn two routines, and Muniz started on Monday with a tango to "Whatever it Takes" by Imagine Dragons. Luckily, it's still early in the competition and Muniz and Carson still have time to pull ahead of the pack. Could they be this season's dark horse couple to make it to the top three? I'm not entirely convinced they'll be able to overtake some of the early knockouts like Lindsey Stirling, but who knows? Stranger things have happened. In any case, Muniz definitely has the work ethic for it.
Watch Romper's new video series, Romper's Doula Diaries:
Check out the entire Romper's Doula Diaries series and other videos on Facebook and the Bustle app across Apple TV, Roku, and Amazon Fire TV.