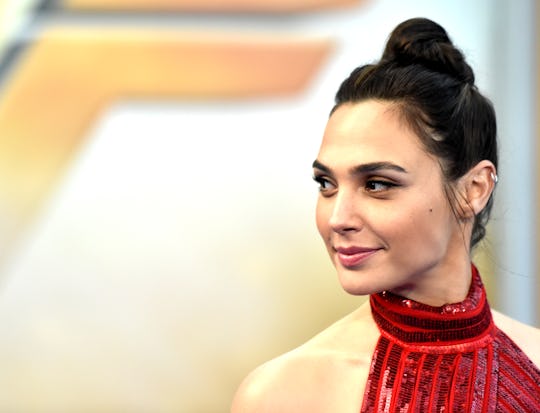 Frazer Harrison/Getty Images Entertainment/Getty Images
Gal Gadot & Yaron Versano Have A Unique Love Story
For Gal Gadot to star in Wonder Woman, she had to hop back and forth between her home in London and Los Angeles, often shuttling her 6-year-old daughter with her and switching up her routine. Throughout it all, she's credited her husband of almost a decade, businessman Yaron Versano, with supporting her every step of the way. It sounds like a pretty fantastic set-up, and fans looking for the same power duo dynamic might be wondering: just how did Gal Gadot meet her husband? (Ahem, and how can the rest of us do the same?)
If you want a Gadot-style romance, you may have to launch yourself into some new situations. Speaking to Glamour last year, Gadot shared how she and Versano met, and it wasn't the usual meet-cute at a party that you'd expect. "We met nearly 10 years ago through mutual friends at this very strange party in the Israeli desert," Gadot told Glamour. "It was all about yoga, chakras, and eating healthy — we didn't exactly find ourselves there, but we found each other."
Asked if she knew whether Versano was "the one" right away (we can have a discussion on the problems around that phrasing later on, folks), Gadot told Glamour:
I think I did, but I was too young to get it. He did! ... He told me on our second date he was serious and wasn't going to wait more than two years to ask me to marry him. Fast-forward two years; he proposed. We were married in 2008. Both of us said, "No games. Let's just be honest and keep it simple." I wouldn't be able to do what I do without him. Family still has to be the first priority. I have to do what's good for my child.
Gadot and Versano now have two children together: 6-year-old Alma and 2-month-old Maya. While Maya hadn't been born yet when Wonder Woman was filming, Versano was often on set with Alma, according to Entertainment Weekly. "It was like this new-age kind of vibe. The women were working and the men were walking around with strollers," Gadot told Entertainment Weekly recently. "The women were shooting battles on the beach. Like from one extreme to the other — it was refreshing to be in such a reality."
Speaking to The Kit in 2015, Gadot also praised her husband and their ability to coordinate parenting as a duo. "You don't sleep much. You drink lots of coffee," she said. "And my husband's the best. It's logistics: We team up, and we just do it."
So there you have it! If you want a power couple relationship like the one Gadot and Versano share, just start trucking off into the Israeli desert more often. Or maybe just explore your interests and stay open to finding a partner who's on the same team as you.