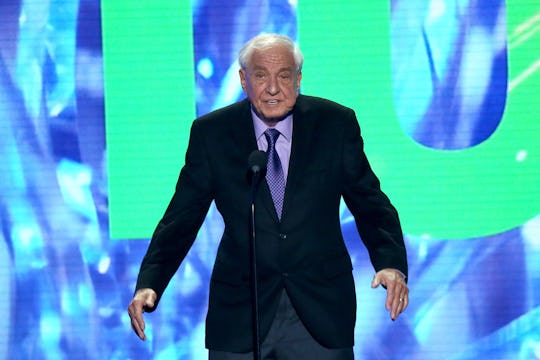 Mark Davis/Getty Images Entertainment/Getty Images
How Did Garry Marshall Die? The 'Pretty Woman' Director Dies At 81
Creator of sitcom Happy Days and director of Pretty Woman and The Princess Diaries, Garry Marshall, died Tuesday in a Burbank, California, hospital, his publicist confirmed to CNN. He was 81. How did Garry Marshall die? He reportedly died from pneumonia complications that developed after a recent stroke, according to CNN. Tributes have started pouring in for Marshall from both celebrities who worked with him and from fans who enjoyed his shows and movies. His family released a touching statement that shows just how much his upbeat spirit will be missed, according to Vanity Fair:
He loved telling stories, making people laugh, and playing softball, winning numerous championships. Even at age 81, he had a record this year of 6–1 pitching for his team.
For millennials having trouble putting a face to a name: think the devil in Hocus Pocus, Drew Barrymore's editor in Never Been Kissed who buys everyone wieners at the baseball game at the end, or the character Walter Harvey in A League of Their Own. Still, Marshall was mostly known for his directing credits, which include Pretty Woman, The Princess Diaries, The Princess Diaries 2, Runaway Bride, Beaches, Laverne & Shirley, and Happy Days, to name a few.
Marshall was born in the Bronx, New York, in 1934 and reportedly began acting in films and TV shows in the 1950s, according to Vanity Fair and CNN. And he never stopped. In an interview with Page Six, he said his mother was the one who pushed him toward comedy and funny film ventures: "She was very, very funny, my mother. She said the worst thing is to be boring," Marshall told Page Six. He said he asked his mother what boring "means," according to Vanity Fair, and she responded with "Your father."
Celebrities including Bette Midler, Henry Winkler, and Melissa Joan Hart, who worked with Marshall on Sabrina, shared heartfelt tributes for their colleague and friend:
Hart Instagrammed a photo of herself and Marshall on the set of Sabrina, with a beautiful caption:
I am overwhelmed by the sad news that my friend and mentor Garry Marshall has passed away! Introduced by Henry Winkler, we worked together on Sabrina and backs (sic) make pals with him and his amazing family. He cast me in Raising Helen (but the scene was cut from the film), he acted in my directorial debut for the short film Mute and we co-produced a script that almost became a film. He sent me birthday and Christmas cards every year and I treasure each interaction I had with that man. He truly was an inspiration, a kind soul and a loving person. Not to mention the epic television he created for us all!! God red (sic) this soul and give comfort to his family!
Actor Tom Hanks shared the following tribute on Twitter:
Garry Marshall was a wonderful man, hilarious, gifted in the ways of humanity and storytelling. He launched and nurtured more careers than he had shoes. Oh lord, how he will be missed. Hanx
In the interview with Page Six about his mother and his film Mother's Day, Marshall shared his philosophy behind it and most of his movies. Sure, they might not be the most action-packed, but they usually find a way to make tough situations (growing up as the nerd in Never Been Kissed, or finding out that you're the next in line for a throne in The Princess Diaries) a little lighter:
Mothers have a very hard job. I wanted to depict some stories where they get through the trouble and survive in a happier way. I do a lot of movies with hope. No flying or explosions, but hope.