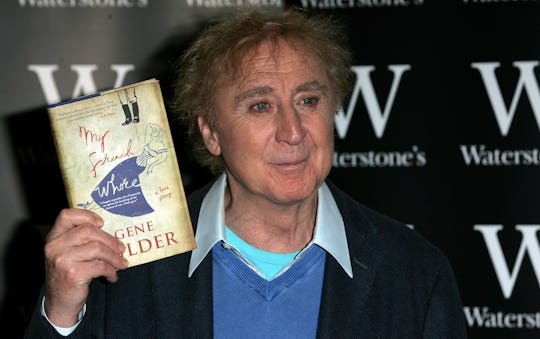 Gareth Cattermole/Getty Images Entertainment/Getty Images
How Did Gene Wilder Die? The Actor Who Played Willy Wonka Was 83
The beloved star of Blazing Saddles, Willy Wonka and the Chocolate Factory, and Young Frankenstein died Monday. How did Gene Wilder die? According to his nephew, Jordan Walker-Pearlman, the 83-year-old actor died due to complications from Alzheimer's disease, Variety reported.
A statement from Walker-Pearlman tweeted by CBS Evening News indicated that Wilder died at home surrounded by loved ones in Stamford, Connecticut while listening to Ella Fitzgerald sing "Somewhere Over the Rainbow." Though he's had Alzheimer's disease for about three years, he never lost recognition of those he cherished and, according to his nephew, his personality remained intact. Walker-Pearlman explained why Wilder kept his condition private during his life:
The decision to wait until this time to disclose his condition wasn't vanity, but more so that the countless young children that would smile or call out to him "there's Willy Wonka," would not have to be then exposed to an adult referencing illness or trouble and causing delight to travel to worry, disappointment or confusion. He simply couldn't bear the idea of one less smile in the world.
Wilder is survived by wife Karen Boyer. When he met her while doing research for a role at the New York League for the Hard of Hearing, he saw her as "this vision in lavender and pink and a little blue," according to the International Business Times. The two married in 1991. Wilder was previously married to Mary Mercier, Mary Joan Schutz, and Gilda Radner, The New York Times reported. Wilder's only child is Katharine Wilder, though his nephew seemed to have a similar role in his life; Walker-Pearlman signed his Monday statement, "Gene's Kid."
Wilder's acting career spanned television and theater, but he is perhaps most well-remembered for his roles on the big screen; according to IMDb, he got his first major motion picture role in 1967 and his last in 1991. Wilder's first professional acting role of any kind was in the 1961 Off-Broadway production of Roots, Variety reported. It was his work onstage that helped him to meet director Mel Brooks. Wilder embodied some of Brooks' most iconic characters, according to the Los Angeles Times: Leo Bloom in The Producers, the Waco Kid in Blazing Saddles, and Dr. Frankenstein in Young Frankenstein. In Wilder's interview with Roger Ebert back in 1971, the actor expressed his admiration for the director when he said, "Mel Brooks is one of the few authentic geniuses working in comedy in America today." On Monday, Brooks responded to Wilder's death: "Gene Wilder-One of the truly great talented of our time. He blessed every film we did with his magic & he blessed me with his friendship." ‌
To many, Wilder will always be Willy Wonka: he immortalized the chocolatier in the eponymous 1971 Mel Stuart film. The character of Willy Wonka was equally magical and mysterious. According to IndieWire, Wilder gave an interview describing how he came up with one of the most memorable moments in the movie:
I thought the script was very good, but something was missing. I wanted to come out with a cane, come down slowly, have it stick into one of the bricks, get up, fall over, roll around, and they all laugh and applaud. The director asked, 'what do you want to do that for?' I said from that time on, no one will know if I'm lying or telling the truth.
Wilder spent much of a dazzling life in the spotlight, but he confronted suffering from a young age. As a boy, he got into comedy when his mother fell ill, according to Wilder's Blank on Blank video for PBS Digital Studios. His mother's doctor warned him that getting angry with her could "kill her" but told him that laughter could heal her. Years later, the power of laughter was put to the test again when Wilder's third wife, Saturday Night Live star Gilda Radner, was diagnosed with ovarian cancer, Variety reported, Wilder founded the nonprofit Gilda's Club in her memory to support individuals with cancer and their loved ones. The actor ultimately faced a cancer diagnosis of his own, and eventually reached full remission from non-Hodgkin lymphoma, according to CNN.
Even while wading through personal darkness, Wilder looked for opportunities to illuminate the world with his talent and his work. In his 1971 interview with Ebert, Wilder explained why he decided to become an actor as a middle school student, after seeing his sister do a dramatic reading:
The lights went down slowly, very slowly. Then it was dark. Spotlights hit the stage, and there was my sister, standing there in the middle of the stage, and...everyone was listening to her. Everyone. At that moment I thought, that must be the most beautiful thing in the world, to be able to arrange things so that people have to listen to you.
Wilder did get people's attention for decades to come. Fans crowded into theaters and flipped on their televisions to watch his powerful transformations into monumentally-memorable characters. They dove into the worlds he created for the screen, both as a writer and a director — according to Biography, those included The Adventures of Sherlock Holmes' Smarter Brother and The World's Greatest Lover. They read one of the many books he wrote: along with his memoir, Kiss Me Like a Stranger, he penned a number of fictional romances from 2008 to 2013. And even as he made fewer public appearances toward the end of his life, they hung on his every word: Wilder's interview at the 92nd Street Y conducted three years ago now has more than 1 million views on YouTube.
Wilder may be gone, but the love he put into his work remains. After experiencing some of the deepest pain imaginable in life, he left a legacy of light. As Willy Wonka quoted from Shakespeare, "So shines a good deed in a weary world."