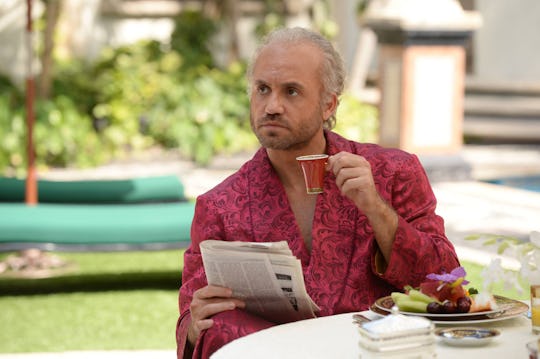 Jeff Daly/FX
The Connection Between Gianni Versace & Andrew Cunanan Remains Unclear
The shocking murder of Gianni Versace by Andrew Cunanan was made all the more perplexing by the fact that there seemed to be little to no connection between the two men at all. Versace was an incredibly famous Italian designer living in a Miami mansion; Cunanan was just an average guy from San Diego. In trying to figure out what might have led Cunanan to kill a man he didn't know, one question keeps coming up: how did Gianni Versace and Andrew Cunanan meet?
The promos for The Assassination of Gianni Versace show the two crossing paths in a club, or perhaps on an empty stage somewhere; Cunanan introduces himself and later Versace pours him champagne while they make conversation. But it's unclear before the episodes air whether the show is claiming these instances truly occurred or it's just depicting stories Cunanan told. It's actually impossible to say whether the two ever met in real life at all.
The veracity of the FX series has come under question by the Versace family, who have disputed the non-fiction book Vulgar Favors by Maureen Orth on which the show is based. In the first statement released by the Versaces, they called the show a "work of fiction" and in the second, as reported by Entertainment Weekly, they said, in part:
Orth never received any information from the Versace family and she has no basis to make claims about the intimate personal life of Gianni Versace or other family members. Instead, in her effort to create a sensational story, she presents second-hand hearsay that is full of contradictions.
Meanwhile, FX and 20th Century Fox have released their own statement on the matter, calling Orth's book "heavily researched and authenticated," while adding that they "stand by the meticulous reporting of Ms. Orth."
There are contradictions inherent to the story, however, because Cunanan was known to lie. Lisa Stravinskas, the sister of his first victim Jeffrey Trail, told the Washington Post that Cunanan told "wild stories" that included claims of having grown up in Israel, having a wife and daughter, and being the son of Russian immigrants. ABC News reported that he told other friends he was descended from Philippine royalty. According to John Walsh, the host of America's Most Wanted, "It appeared to everybody that he might have come from privilege, and he played that card big time."
With that in mind, it's not hard to imagine that Cunanan could have fabricated or exaggerated his meeting with Versace, too. Versace was one of the most famous designers in the world at the time, so meeting him was definitely something to brag about. However, there is a chance they did really cross paths. According to Orth in a 1997 Vanity Fair article, friends of Cunanan remembered him mentioning Versace.
It seems they had met in 1990 at a San Francisco nightclub called Colossus. Versace was in California because he had designed the costumes for the San Francisco Opera. Orth's article claimed that an unidentified witness recalled that Versace seemed to recognized Cunanan from Lake Como, though it wasn't clear whether or not they had actually previously met.
Later in the same Vanity Fair piece, a friend of Cunanan's named Doug Stubblefield remembered seeing Cunanan sitting in a white chauffeured car alongside Versace and Harry de Wildt. "Andrew called out, and we had a conversation on the side of the street," Stubblefield said. "It was very Andrew to do that — have the car pull over." However, de Wildt denied the encounter and insisted he had never met Cunanan.
Most accounts of a possible meeting between Cunanan and Versace place it in San Francisco at a club or at the Opera, so it is plausible that their encounter really did occur. ABC News reported that three witnesses saw Cunanan and Versace together in California, but also speculated that Cunanan could have run into Versace while traveling with an older patron named Norman Blachford. Miami detective Gustavo Sanchez theorized to WTVR, "I think they knew each other or [Cunanan] wanted to be in [Versace's] circle, and maybe he was rejected. And this is — this is all speculation."
It seems the Cunanan and Versace may have met at one point, but there is no way to know for sure. Both men are deceased, so neither can officially confirm or deny it. It remains something of a rumor, with only secondary sources available to shed some light on the situation.
Check out Romper's new video series, Romper's Doula Diaries:
Watch full episodes of Romper's Doula Diaries on Facebook Watch.