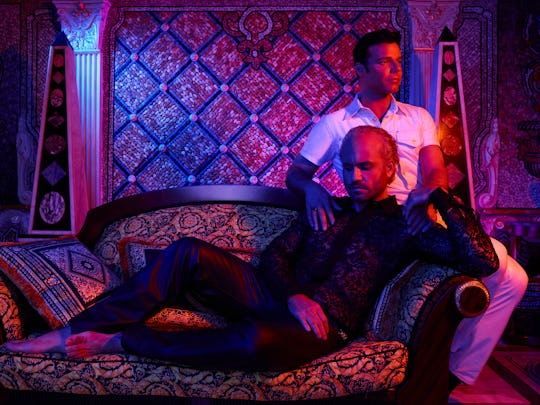 Pari Dukovic/FX
Gianni Versace & Antonio D'Amico Were Together For Over A Decade
In revisiting the murder of Gianni Versace with Ryan Murphy's new series The Assassination of Gianni Versace: American Crime Story, you may notice a name slightly less famous than the many names involved — that of Versace's longtime partner. So if you're as fascinated by this tragic story as I am, you're probably in search of more details. Like how did Gianni Versace and Antonio D'Amico meet? The couple were together for more than a decade, until D'Amico discovered Versace's body on the front steps of their mansion in Miami just after his murder.
The couple is reported to have met in 1982, when D'Amico was working as a part-time office executive at Versace's company. They fell in love and stayed together for the next 15 years. In an interview with The Observer, D'Amico described their relationship, noting that in the 1980s Versace was one of the first public figures to be out publicly, and the couple never attempted to hide or conceal their relationship. "We lived like a natural couple, there was never a problem," D'Amico said to the outlet. "It was the right moment for him to come out in public, but everyone involved in our world knew. He never tried to hide who he was."
In the article, D'Amico also offered a few heartbreaking and touching details about the couple's life together. "It's getting to know the small things about a relationship," he said, speaking of Ricky Martin's upcoming portrayal of him in the FX series. "For example, Gianni was so ordered and focused at work but in his private life everything was disorganized. He'd leave the bathroom in a mess. At a certain point I said 'enough'! And when it came to cooking, he didn't even know how to [boil] an egg." Clearly the pair had a very strong bond and close romantic relationship.
In the same interview, D'Amico said he was dissatisfied with what he'd seen of Martin's portrayal. "The picture of Ricky Martin holding the body in his arms is ridiculous," he said of the paparazzi shots that had been captured of the scene. "Maybe it's the director's poetic license, but that is not how I reacted." D'Amico went on to explain that when he found Versace's body his blood was "like ice" and then everything "went dark" before he was taken away.
For what it's worth, Martin told Ocean Drive, "I had the opportunity to speak to Antonio a few months ago, and I said, 'Antonio, listen, maybe you've seen a couple of paparazzi shots of the actual scenes that we're shooting, but please don't judge the quality of it just by one picture because it could easily be taken out of context. You have to see what we're doing, and you're going to be so pleased with everything.'"
Not alone in being dissatisfied with the show's portrayal of events, the Versace family has also released two statements refuting the authenticity of the series. The first statement claims that the show, based on Maureen Orth's book Vulgar Favors, is a "work of fiction." FX and 20th Century Fox released their own statement shortly thereafter, defending Orth's work: "We stand by the meticulous reporting of Ms. Orth."
The Versace family then released a second statement expounding on the first, stating that Orth "never received any information from the Versace family" and that her account is "second-hand hearsay that is full of contradictions." The statement also called the book's version of events "distorted and bogus" and the producers' decision to use it as "sad and reprehensible."
Even with all that in mind, I'm looking forward to seeing what the show has to offer.
Check out Romper's new video series, Romper's Doula Diaries:
Watch full episodes of Romper's Doula Diaries on Facebook Watch.