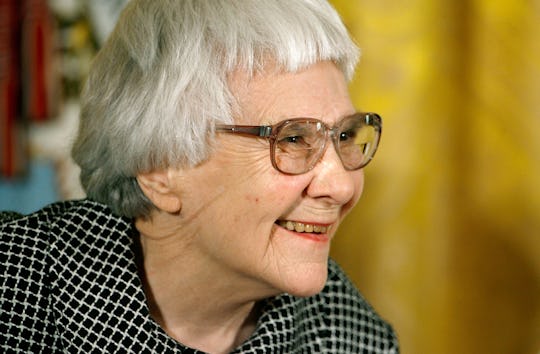 Chip Somodevilla/Getty Images News/Getty Images
How Did Harper Lee Die? The 'To Kill A Mockingbird' Author Will Be Missed
Nelle Harper Lee, author of To Kill a Mockingbird died at the age of 89, according to AL.com. Just how did Harper Lee die? Although a cause of death hasn't been announced, the beloved author suffered a stroke in 2007.
Lee was born in her hometown of Monroeville, Alabama, on April 28, 1926. The small town is also where she died. Monroeville both celebrated its most famous resident with public art and productions of To Kill a Mockingbird dedicated to Lee's famous work. But Lee was also known for valuing her privacy, which the people of the town also helped her protect. She was famous for turning down interviews and invitations to step into the limelight. Instead she preferred her life in sleepy Monroeville.
Lee left Monroeville to attend the University of Alabama and later moved to New York, where eventually, in July 1960 her Pulitzer Prize-winning book was published and inspired the movie, To Kill a Mockingbird, which premiered Christmas 1962 to equal acclaim.
School kids everywhere fall in love every year with Lee's words and the bravery and integrity of her characters, Atticus Finch, based on her own father Amasa, and Scout, a version of herself as a little girl. The character Dill Harris was modeled after Truman Capote, who was her childhood playmate.
In 2016, she released the highly anticipated Go Set a Watchman, billed as a sequel to her famous novel. But, despite all the hype surrounding a new book from Lee, it was largely panned by critics and readers.
Lee will always loom larger than life in American literature, both for the lessons of To Kill a Mockingbird and for all of the subsequent controversy it caused with this "liberal" messages and heavy-handed use of the "N-word." But, what readers will remember most are her beautiful words and the big huge heart of a book that told them that they'll never understand anyone else, "Until you climb into his skin and walk around in it."
Lee will be sorely missed.