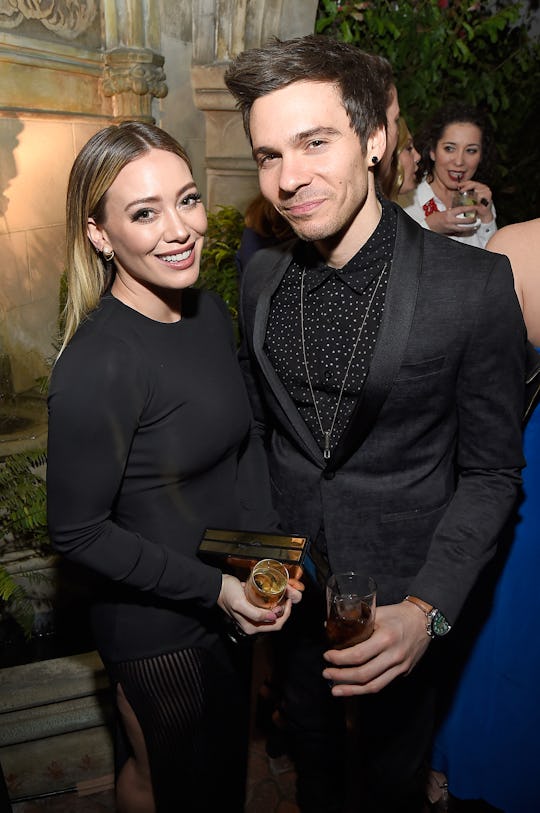 Matt Winkelmeyer/Getty Images Entertainment/Getty Images
Here's How Parents-To-Be Hilary Duff & Matthew Koma's Love Story Got Started
Former Disney Channel star Hilary Duff surprised all of her fans on Friday afternoon when she took to Instagram to make one very big announcement — that she and her boyfriend, Matthew Koma, were not only expecting their first child together but that they were expecting a girl. Cue the excitement and the curiosity from fans wondering how and when this happened. But the reality is, Duff and Koma have been together for a while — so of course, it's only natural for fans to wonder, how did Duff and Koma meet?
As previously stated, both Duff and Koma took to Instagram to make their very special announcement. "Guess what guys!," Duff captioned the photo, according to Billboard. "Matthew Koma and I made a little princess of our own and we couldn't be more excited." Koma also confirmed the news on his Instagram account. "We made a baby girl!," Koma captioned the photo. "She will be as beautiful and sweet as her mother." Awww.
It's clear from both of these captions that both Duff and Koma are so in love with each other — but how did their relationship get to this point? Both Koma and Duff share the same profession — they're both musicians, according to People. And their paths finally crossed when they collaborated on Duff's 2015 album together, Breathe In. Breathe Out., according to Us Weekly, when they recorded the album's title track (which he produced). A source told Us Weekly at the time that it was clear that Koma and Duff hit it off. "They had great chemistry in the studio," a source told Us Weekly. "Hilary thinks Matt is very cute and talented."
In a 2015 interview with Entertainment Weekly, Duff revealed that the song, "Breathe In. Breathe Out." was special to her, possibly hinting that Koma would become special to her in the future, too. Duff told Entertainment Weekly:
It's the title of a track on the album that I did with Matthew Koma, and it stuck with me. Over the past few years of my life it's just been something that really helped me — just taking a deep breath in and letting a deep breath out. It can be a good thing, it can be a struggle, it can be a power thing — it's just a good reminder for everyone to do that. It's a relief.
Two years after that, Duff and Koma made their first public appearance together in January 2017, according to E! News — although the couple never confirmed that they were dating at the time. And once they officially got together, they didn't stay together for too long — three months later the couple reportedly broke up due to their "busy schedules," according to E! News. But they didn't stay apart from one another for too long. A few months later, in October, Koma and Duff confirmed that they were back together, according to E! News.
During an appearance on The Talk a few months later, Duff opened up about their relationship, according to E! News. "It's going so great," Duff said. "Timing is such a big deal...third time's a charm!" Duff continued, telling the show's hosts, according to E! News:
I think that you have history and a past with someone and love, and just because it doesn't work out the first time, the second time, as long as there's not too much damage done, it can always work out again.
And it's clear that it did work out again and in the best way possible. Duff, who is already a mom to a young son named Luca with her ex-husband, Mike Comrie, according to the Daily Mail, could not look any more excited for this new chapter in her life with Koma.
People say that music is powerful — and in this case, it really is. It brought Duff and Koma together.