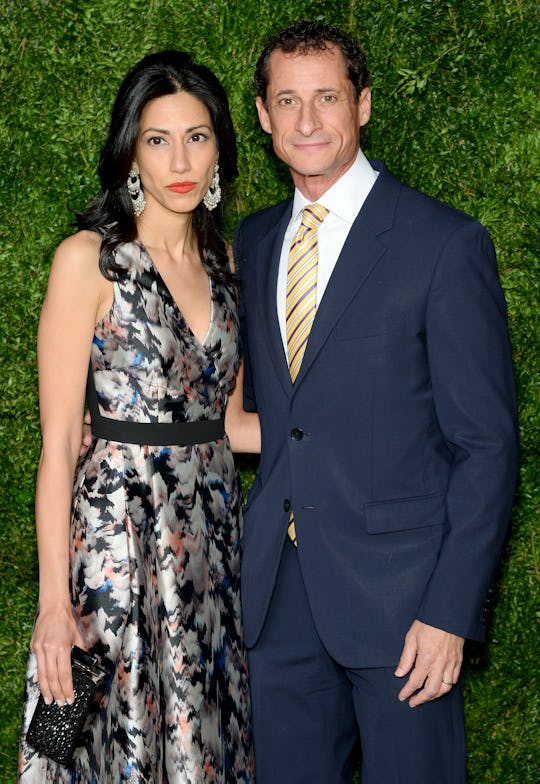 Andrew Toth/Getty Images Entertainment/Getty Images
How Did Huma Abedin & Anthony Weiner Meet? They Got Off To A Rocky Start
On Monday, many gave a long sigh of relief at Huma Abedin's announcement that she would separate from her husband, former congressman Anthony Weiner. Abedin, Hillary Clinton's longtime top aide, stuck with Weiner through multiple sexting scandals, but after he reportedly sent sexual pictures to a woman while his young son slept beside him, enough was enough. As the marriage comes to an end, let's take a look back at its beginnings. How did Huma Abedin and Anthony Weiner meet? It seems clear from their first encounter that she was too good for him.
In a recent profile for Vogue, released just a few weeks before news of Weiner's latest scandal broke, Abedin discussed the couple's first meeting. They crossed paths at a Democratic National Committee retreat on Martha's Vineyard in 2001. Abedin was already working for Clinton, who had newly been elected to the Senate, and she had her mind on her work. As she told Vogue,
It didn't go so well. A friend of mine came up to me and said, "He'd like to meet you." I was working. My mind wasn't even there. He came over, he said hello, and, honestly, that was the end of it.
And when Weiner invited Abedin to join a group getting drinks, she said,
I ordered tea, and then left to use the ladies' room, and then never came back. That was our first meeting.
Still, Weiner grew on her over the following years, as they kept crossing paths and became friendly. As she told Vogue, she admired his dedication, and "the passion he had for helping people." (Though it's almost impossible now to think of him beyond the sexting scandal, he was once a very promising politician. I remember seeing him speak at a rally for Planned Parenthood back before the first scandal broke, and thinking he was going to go places as a public servant.)
Eventually, he won her over. The couple married in 2010 and soon had a son, Jordan, whose well-being is likely a large part of why Abedin stuck by Weiner for so long, even as he kept making similar mistakes repeatedly in the public eye.
But Weiner's inclusion of the couple's son in this latest incident appeared to be the final straw, with Abedin releasing a statement not long after The New York Post broke the new scandal, in which she announced her intention to separate from Weiner.
Though the decision must be a painful one, it seems best for all involved. Now Abedin can carry on being the hardworking, amazing woman she is, and Weiner can press forward with his own life.