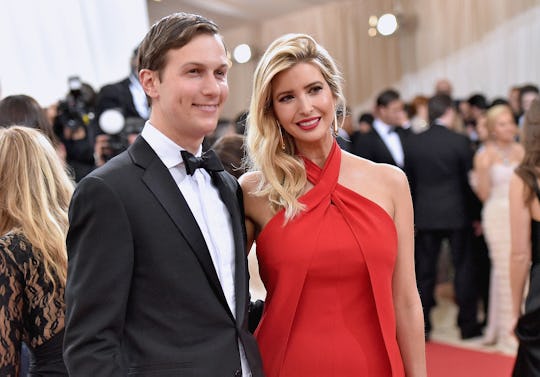 Mike Coppola/Getty Images Entertainment/Getty Images
How Did Ivanka Trump & Jared Kushner Meet? It's A Match Made In Business Heaven
Donald Trump just might have found the perfect son-in-law in Jared Kushner. Not only is he in the same business as Trump, he also serves as one of the most trusted campaign advisers to the Republican candidate for president. It's as if Trump hand-picked Kushner himself. Those wondering how Ivanka Trump and Jared Kushner met might be surprised to learn that it was all luck; it wasn't Donald who brought the pair together, but mutual friends.
"We started dating pretty quickly after we met," Ivanka told New York Magazine in July 2009, just after their engagement was announced. The couple had been together for two years at that point, and wed just three months later. The short engagement is explained by the fact that the couple couldn't be officially engaged until Trump converted to Judaism. Rumors of her conversion were reported by Haaretz in October 2008, so it seems that the pair were actually planning their wedding for at least a year.
In a 2015 Vogue interview (via Jewish Insider), Trump said that the two did originally get together for business reasons: "They very innocently set us up thinking that our only interest in one another would be transactional," she said of the friends that arranged the meeting. "Whenever we see them we're like, the best deal we ever made!"
Like his father-in-law, Kushner makes his living primarily by orchestrating billion-dollar real estate deals. He took over the family business after his father, Charles Kushner, was sent to federal prison for tax evasion, witness tampering, and campaign finance violations, according to CNN. His most well-known real estate deal is his $1.8 billion acquisition of 666 Park Avenue in 2007 at the age of 26. In 2015, The Real Deal reported that Kushner plans to turn the building into a "vertical mall" with a hotel and residences on the upper floors. Sounds a lot like another famous New York City tower to me.
Kushner also owns The New York Observer, which has led to no small amount of strife for its reporters and editors in the run-up to the election. Covering a candidate can get pretty sticky when his relative signs your paycheck. But politics and business aside, the couple try to lead a fairly normal life. "We're very mellow," Ivanka told NYMag. "We go to the park. We go biking together. We go to the 2nd Avenue Deli." She also stresses that they rarely visit fancy restaurants, and in fact, she cooks one meal per week at home with her own two hands. Just like the rest of us.