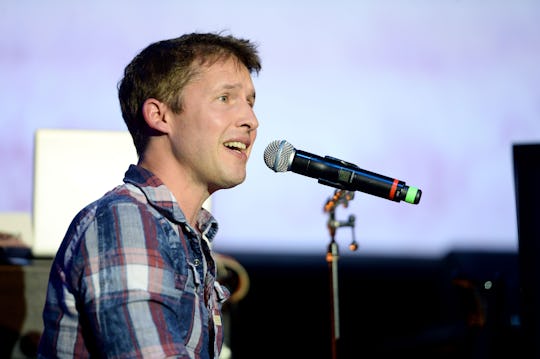 Matt Winkelmeyer/Getty Images Entertainment/Getty Images
Carrie Fisher & James Blunt Go Way Back
Nearly three months after the back-to-back deaths of Carrie Fisher and Debbie Reynolds, fans have an opportunity to say one last goodbye to the iconic mother-daughter duo at a public memorial service on Saturday afternoon at the cemetery where they are both buried. There's a lot planned for the belated send-off, including the unveiling of a tribute song from James Blunt, who was reportedly very close with the Star Wars actress. Their friendship wasn't plastered all over magazines and they didn't exactly flaunt their closeness on social media either, so how did James Blunt know Carrie Fisher and how far back does their bond go?
According to the memorial's website, the 43-year-old British singer and Fisher were incredibly close and Fisher's brother, Todd, revealed that he prepared a tribute song to be over a photo montage. So close in fact that she was the godmother to his son, who was born in June 2016, the site also said.
"Blunt and Fisher had a long-running friendship," according to the memorial website. "She was his son's godmother, and Blunt recorded his album Back To Bedlam at her house, where he stayed whenever he was in Los Angeles."
According to The New York Post, Blunt recently said living in Fisher's home in the early 2000s "was a bit of a madhouse" and "the food was terrible," but it was what inspired the title for his debut album, Back To Bedlam, named after an infamous psychiatric institution in London.
"She was a wonderful person who took people under her wing," Blunt told The New York Post. "Paul Simon used to pass on by, Sean Lennon, Rufus Wainwright, people like that. Her place was like a commune — it was a very creative environment. There were no airs and graces with her, and I was crushed when she passed last year."
According to The Telegraph, the former Army officer and Fisher first met in London through a mutual friend and "struck up an instant friendship" from there and would eventually move into her Beverly Hills home.
"I was incredibly lucky to meet Carrie in London," he told The Australian in 2015. "I needed a place to stay and she said I could lodge with her. She is an amazing person, my American mother in many ways."
During his five-month stay at Fisher's home, Blunt told The Independent in 2006 that Fisher fed him soup, showed him old movies, and put a cardboard figure of her in Star Wars outside his room "to protect" him.
Other than taking on the role of his American mother, Fisher was also one of his biggest fans. "I played his music to all my friends that came over, whatever celebrity crowd I could muster at my bungalow," Fisher reportedly said, according to The Telegraph.
Fisher, who had been recognized as a mental health advocate, also acted as Blunt's therapist and reportedly spoke to him about his psychological issues he experienced from his time in the military. "He'd never been to therapy and I've had enough for both of us, so we started talking quite deeply about his time in the Army and the kind of impact that had had," she once said, according to The Telegraph. "I was kind of his shrink/landlady."
Clearly, their friendship was deep and unique. It was quirky and creative at times and it was a caring and beautiful bond at others. And it was an obviously strong connection to others as well.
"They inspired each other," Fisher's brother told Entertainment Tonight. "There was this mutual inspiration going on. She had a way of rubbing off on people and inspiring people and she inspired him."
Fans may not have known of this friendship before, but learning how Fisher touched one extra life like this is a wonderful way to keep her spirit alive.