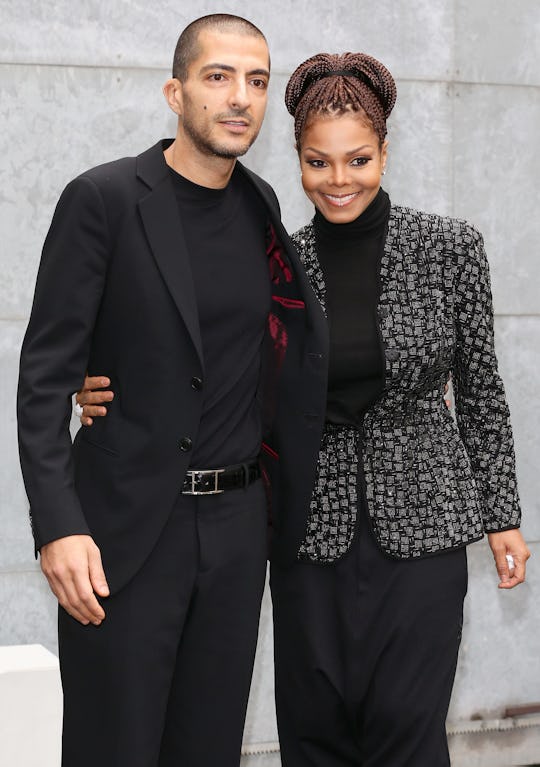 Vittorio Zunino Celotto/Getty Images Entertainment/Getty Images
How Did Janet Jackson & Wissam Al Mana Meet? They've Kept Their Relationship Private
Although the world was surprised by the news that Janet Jackson was expecting a baby with her husband Wissam Al Mana, it definitely wasn't the first time that the singer kept big news hush hush: Jackson and Al Mana were actually married for a whole year before anyone found out! How did Janet Jackson and Wissam Al Mana meet? Needless to say, the very private couple hasn't shared much about their life together, but according to Us Weekly, Jackson first met the billionaire businessman at a hotel opening in Dubai in 2010. That summer they were spotted on vacation in Sardinia, where they took trips on yachts and swam in the hotel pool together. Two years later, they married in Qatar in a what they described as a "quiet, private, and beautiful ceremony," in a statement to Entertainment Tonight, and now, of course, they are expecting their first child together.
Beyond those details though, not a whole lot is known about their life. While an interview Al Mana did with Entrepreneur Middle East seems to suggest Al Mana calls Qatar home, other reports have suggested the couple lived in Saudi Arabia for some time. But Al Mana also spent much of his childhood in London, and both he and Jackson are major jetsetters, so it's not entirely clear where they plan to have their baby.
But one thing seems obvious: they are crazy about each other. Before they wed in 2012, Al Mana told Harper's Bazaar Arabia that Jackson was his "dream woman," and in a separate interview with VMAN Magazine, Al Mana called Jackson a "very special and talented woman who never ceases to amaze me," according to People. And Jackson — who had previously been secretly married to Rene Elizondo for eight years, according to Rolling Stone — clearly feels the same way about her husband. In the same interview in Harper's Bazaar Arabia, Jackson said, "I'm getting older and I feel more settled. We have a deep bond, a deep connection."
While the baby will be the first child for both Al Mana and Jackson, family is an important priority for both of them. According to Entrepreneur Middle East, Al Mana built his fortune running his late father's empire, the Almana Group, with his two older brothers Hisham and Kamal. And, for him, following in his father's footsteps was a no-brainer:
I always wanted to. My father [Saleh Al Hamad Al Mana] passed away when I was quite young, and I felt that it was my duty to kind of pick up the flag and to continue the business, and try to continue the legacy and the family name. It's in our blood, we're merchants. When I was a child, I looked at my father's passport and his occupation said 'Merchant'. I asked my mom, and she explained that we are merchants. We take pride in that, it's our heritage.
As for Jackson's decision to get pregnant later on in life (she will be 50 when her baby is born), the Daily Mail said that it was actually her mother, Katherine Jackson, who urged the singer to get pregnant while she still could. And while the pregnancy has put Jackson's touring plans on hold — she postponed her latest tour last month indefinitely — she's still having plenty of professional success. Her most recent album, Unbreakable, debuted at number one on the Billboard album chart last year, which not only marked her seventh No. 1 album, but also the achievement of being "the third act to achieve No. 1 albums in each of the last four decades," according to Billboard.
Big congrats to the parents-to-be — even if we probably won't be seeing any Instagram baby photos any time soon.