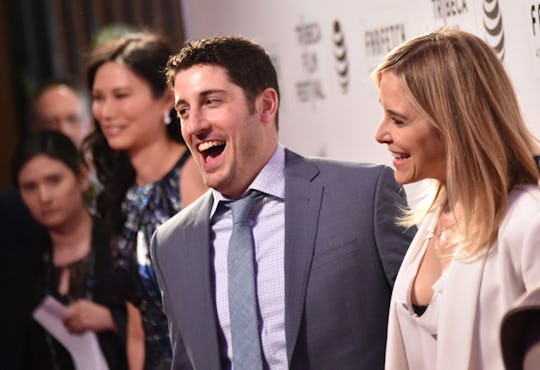 Mike Coppola/Getty Images Entertainment/Getty Images
Jenny Mollen & Jason Biggs Have Weathered A Lot Together
As if you needed another reason to love power couple Jenny Mollen and Jason Biggs, their recent announcement that they were expecting another baby will probably do the trick. In a photo shared via Mollen's Instagram, Mollen joked about having the birds and the bees talk with their son, 3-year-old Sid, to explain that he was going to be a big brother — using a NoseFrida baby snotsucker (with one end stuck inside Bigg's nostril), no less. Mollen and Biggs have always been a clever and winning duo, since 2008, actually. But, just how did Jenny Mollen and Jason Biggs meet? It turns out that blind dates might have a higher success rate than everyone thinks.
In a 2012 interview with Elle, American Pie star and all-around funny man Biggs shared how he was introduced to Mollen, and it wasn't what you might think. The two were actually set up on a blind date despite having already been co-stars in the 2008 film, My Best Friend's Girl. And as they've been together for nearly 10 years now, it's clear that their relationship has truly blossomed into something real. From a 2008 blind date, to an unexpected miscarriage, and now preparing to welcome a second child into the world together, Mollen and Biggs have been through a lot together.
According to an essay Mollen wrote for Cosmopolitan in 2014, the two became secretly engaged back in 2008 after dating for four months. Then, an unexpected pregnancy changed everything for the couple. After a heartbreaking miscarriage at just three months into the pregnancy, Mollen recalled an important shift in her and Biggs' relationship:
Everything that had been moving so fast suddenly came to a grinding halt. The only thing remaining was my intense love for Jason. The events bonded us in such a way that I knew we were meant to be forever. Less than a month later, we eloped.
Since then, the pair have remained focused on each other, their careers, and creating a life together. In 2013, Mollen became pregnant with Sid, and, as Biggs recalls, "we're stronger now because of it."
And as the couple prepare to welcome a second child into their family, it's obvious that their parenting skills remain on point, and that they're going to be the perfect little family of four. That, and — despite all evidence to the contrary — sometimes a blind date can actually change your life, for the better.