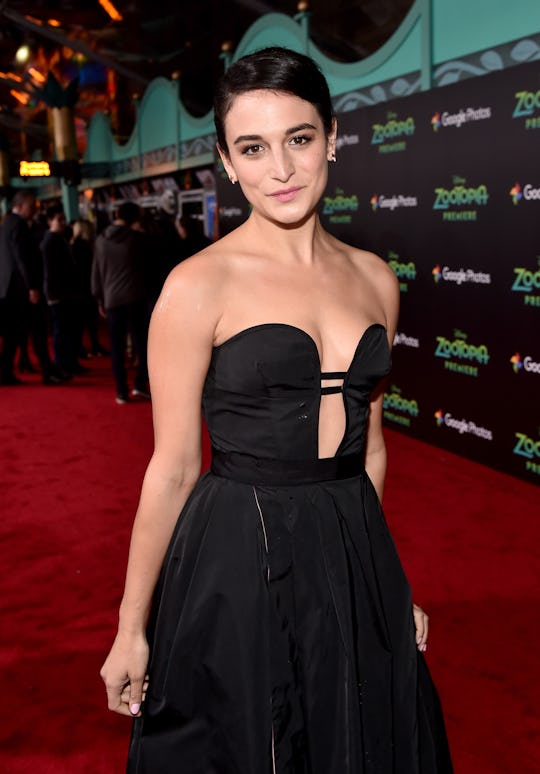 Alberto E. Rodriguez/Getty Images Entertainment/Getty Images
How Did Jenny Slate & Chris Evans Meet? The Match Is Making Fans Incredibly Happy
Very important news about people we don't actually know in real life: Jenny Slate and Chris Evans are reportedly dating. I never thought I'd ship Mona-Lisa Saperstein and Captain America, but if he can't be with Agent Peggy Carter, Slate's a pretty great alternative. The pair seem to be on pretty dissimilar career paths, so now fans are curious; how did Jenny Slate and Chris Evans meet?
It appears that the actors first met on the set of the upcoming drama Gifted, which began filming in Georgia last October. The two appeared together on the April 4 episode of the Anna Faris is Unqualified podcast, and at the time, Evans said that he's only known Slate for a few months, although they both acknowledged that it didn't feel that way. At the time, they claimed to be just close friends, and Evans said the two were "like the same animal." However, Us Weekly has reported that a source told them that Slate and Evans went on a double date with Evans' brother, Scott, in March. Could it have just been a friendly meal between two opposite-sex best friends and two other people, or have they been secretly dating for months? Either way, I'd like to offer the highest of fives to Slate.
It's actually a little surprising that Slate and Evans hadn't met before; as Faris pointed out on the podcast, they're both friendly with her husband, Chris Pratt (Evans starred with Faris and Pratt in the 2011 film What's Your Number, and Slate was a regular guest on Pratt's old gig, Parks and Recreation). The two are also both 34, and both are originally from Massachusetts (she's from Milton, he's from Sudbury). Fellow Massachusetts native and writer-actor Mindy Kaling was all over the news:
Slate, who was once best known for accidentally dropping the F-bomb on her Saturday Night Live debut, and Evans, who sported a whipped cream bikini in Not Another Teen Movie, have come a long way since their Hollywood beginnings. The two are now well loved in their fields, and fans on Twitter are falling over themselves as they cheer on the new (alleged) couple.
I honestly can't remember the last time the world was this happy. We've been torn apart for too long, what with the presidential election, and that hideous, color-shifting dress before that (Team Blue; come at me), so it's nice to see everybody united for a change. Congratulations, Jenny and Chris. And in case this is all a rumor, and you're not really dating... Please don't tell people right now; I'm not sure they could take it.