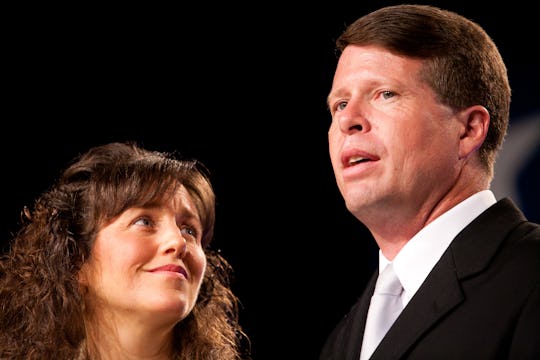 Brendan Hoffman/Getty Images Entertainment/Getty Images
Here's How Jim Bob & Michelle Duggar Met
Jim Bob and Michelle Duggar have nine daughters and 10 sons. But before the 19 Kids and Counting stars had just one short of two dozen children, they were just two. The Christian couple waited four years to have their first child, Josh, after marrying on July 21, 1984, according to People. They've been married for more than 30 years now, with new babies arriving roughly every year and a half — but how did Jim Bob and Michelle Duggar meet in the first place?
In 2008, we first met Jim Bob and Michelle on 17 Kids & Counting; which later became 19 Kids & Counting, and fans watched all of the "J"-named children grow up and date... or, rather, court and be courted. We watched a lot of group dates with no kissing allowed and awkward side hugs to quell some serious sexual tension. And that leaves us wondering: Did Jim Bob and Michelle follow the same rules before they tied the knot?
Let's take a step back in time. In the early '80s, Michelle Duggar (neé Ruark) didn't actually convert to Christianity until she was 15. She went to a public high school, unlike her homeschooled children, where she even wore pants, according to TLC. She never came from a big family and didn't even plan to have one of her own — she was on birth control when she and Jim Bob first got married.
Jim Bob, on the other hand, was sent to Shiloh Christian high school, and his family were devout members of the Baptist Church, according to The Duggar Family Fan Blog.
Jim Bob and Michelle met when a mutual friend, Fred Pearrow, who went to church with Jim Bob, invited Michelle to church — though she doesn't remember meeting Jim Bob then, she admitted in an interview with Love to Know. When Jim Bob and Pearrow were out knocking on doors of people who've visited the church before, they knocked on Michelle's door to invite her back to Sunday school. It was just your average Tuesday night for 15-year-old Michelle who didn't realize then that she'd be saved by... and married to... the man who, quite literally, showed up at her doorstep.
Apparently, Michelle made such an impression on her future hubby, Jim Bob, that she told Love to Know he later confessed to praying "to be her spiritual leader" and even asked God, "Can she be mine?"
And she was all his just about a year later. Michelle had applied to work at the yogurt shop that Jim Bob's mother managed and, when Jim Bob came to pick his mother up from work, the two were introduced again, according to the interview. After mustering up the courage during a routine maintenance check, he invited her to go to his Junior/Senior Banquet at Shiloh Christian and she agree; the two discussed the bible for hours after (unchaperoned!) and, I imagine, ended the night with a side hug.
"I remember when he left... I looked up and said, 'Father, I can't imagine anyone better than this that you have planned for me," she told Love to Know. "From there, we believe our hearts were knit together."
She also told TLC that Jim Bob was "the most polite, well-mannered, kind, gentle young man [she'd] ever met," and, after meeting a lot of "cocky and proud" guys in public school who never opened the door and "didn't have an idea of what polite manners were," she knew Jim Bob was the one.
"He didn't even have any inkling of trying anything inappropriate with me at all," she told TLC, not that anyone expects he'd have gone in for a kiss or tried to hug her from the front... Because he was "the most amazing gentleman [she'd] ever met and had such a heart for God," she said she fell in love with him on that very first date. The two got hitched just shortly after graduating high school — Michelle was just 17 years old and Jim Bob was 19.
Editor's note: After publication, we discovered this article did not meet our editorial standards. There were portions that did not correctly attribute another source. It has been updated to meet our standards.
Check out Romper's new video series, Romper's Doula Diaries:
Watch full episodes of Romper's Doula Diaries on Facebook Watch.