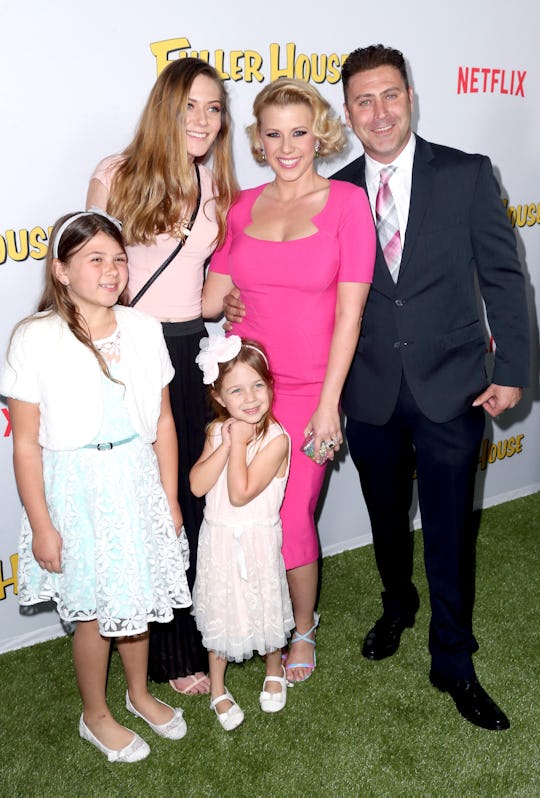 Frederick M. Brown/Getty Images Entertainment/Getty Images
How Did Jodie Sweetin Meet Her Fiance? They Met In The Most Normal Way
Jodie Sweetin, or Stephanie Tanner, as Full House and Fuller House fans know her as, has brought back a serious wave of nostalgia since the recent premiere of Fuller House on Netflix. The child star is all grown up with children of her own and a brand new fiance to add to the mix. Most recently, Sweetin got engaged to her long-time boyfriend Justin Hodak in January. But how did Jodie Sweetin meet her fiance? They met in the most normal way — through a mutual friend.
Sweetin is a principal actor in the recent revival of the classic late 80's and early 90's show, Full House. After starring in Full House from the age of five until she was twelve, Sweetin went on to make guest appearances on different T.V. shows but nothing compared to her starring role as Stephanie Tanner on Full House.
Life for Sweetin wasn't easy after the show went off air. According to a recent interview with Complex Magazine, by the time she was 14 years old, Sweetin was an alcoholic and by the time she was 25 she was spending Full House residual checks to get high.
But life now seems much sweeter for Sweetin since becoming clean and her fiance. So how did the two meet? Through a mutual friend, surprisingly.
According to a Jan. 2016 interview with People Magazine, Sweetin gave the magazine all of the details about her engagement and how she met Hodak.
"We met through a mutual friend years ago and reconnected a little over two years ago," Sweetin told People. "It's been really good ever since."
Sweetin said that Hodak is "super excited" about Fuller House. "It was something kids our age watched and he really loves it."
The adorable couple have been all over each others Instagram accounts, posting super sweet photos of them kissing and being an adorable couple, including this great picture of them taken on the set of Fuller House.
Sweetin has two daughters from two previous relationships, seven-year-old Zoie and five-year-old Beatrix. This will be Sweetin's fourth marriage, after previously being married to Cody Herpin, Shaun Holguin and Marty Coyle.
I think that Sweetin and Hodak's way of meeting is super normal and sweet. Sometimes we meet people in the most unexpected places, even if it is just through mutual friends and reconnecting later. They look adorable together and have a great future ahead of them.