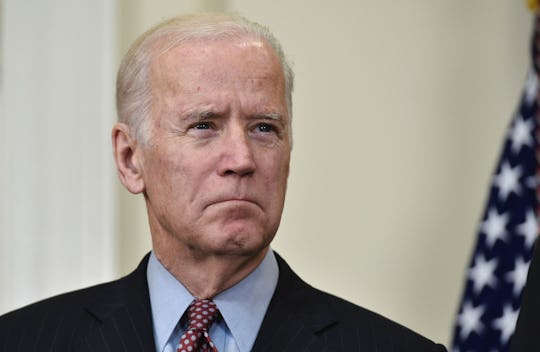 MANDEL NGAN/AFP/Getty Images
How Did Joe Biden & Lady Gaga Meet? They'll Share The Stage At the Oscars
Imagine the two people least likely to have anything in common at all. Is it Vice President Joe Biden and pop star Lady Gaga? The two couldn't seem more different, but fans may be surprised that they share a passion. They'll be joining forces on stage at the Oscars on Sunday to call attention to the growing issue of campus sexual assault. But, how did all this happen? How did Joe Biden and Lady Gaga meet? They haven't actually met before, but they are familiar with each other's work.
Their shared dedication to the issue of women's rights and sexual assault is what brought them together. Biden will take the stage to introduce Lady Gaga's performance of "Til It Happens to You," a nominee for best original song. It was written for the documentary The Hunting Ground, which spotlights campus rape, an very issue close to Lady Gaga's heart.
According to ABC News, during his introduction, Biden will have the opportunity to promote the White House's "It's On Us" campaign against sexual assault. He and a team of advocates launched the ambitious campaign in Sept. 2015, but his involvement with the issues dates back before then. When he was a senator, he authored the 1994 Violence Against Women Act, which laid the groundwork for more recent legislature. The documentary, "The Hunting Ground," and the song that went along with it, are the perfect additions to Biden's already robust public awareness campaign. Their message is simple: they want people — everyone — to make a commitment to keep people safe from sexual assault, no matter what.
Just as Lady Gaga has been open about her support for Kesha during the Kesha's protracted sexual assault case, Biden has continued to be an outspoken supporter of victims. He wrote an op-ed in Nov. 2015 that was titled, "It's On Us to Stop Campus Sexual Assault." It was a call to action for students at college campuses to take responsibility, do their part, speak out, "create an environment where sexual assault is unacceptable, and all survivors are supported." During that time, he traveled the country, visiting college campuses to speak about the issue.
Their joint appearance should be a powerful moment in the evening's program, as well as a landmark moment for sexual assault advocacy. Though Biden's appearance at the Oscars is unusual, it's not the first time politicians have used the venue to talk about an important issue. First Lady Michelle Obama presented in 2013, President Ronald Reagan delivered a message in 1981, and, last but not least, Franklin Roosevelt spoke to the star-studded audience via radio in 1941. Biden will attend Oscars night with his wife, Dr. Jill Biden. It'll all go down at Dolby Theatre in Los Angeles on Sunday.