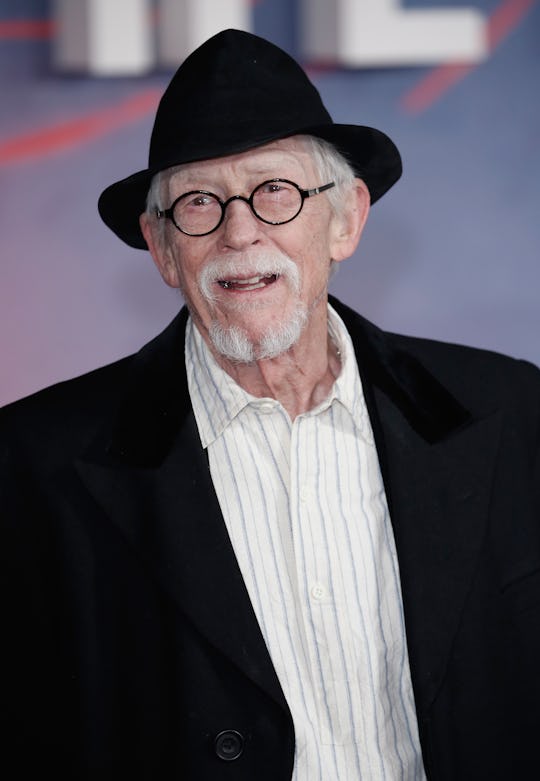 John Phillips/Getty Images Entertainment/Getty Images
Legendary Actor John Hurt Dies At 77 Years Old
Celebrity deaths are never easy. In the past week, the world collectively mourned when it was announced that Mary Tyler Moore died on Wednesday — and now yet another actor has died. On Friday, it was announced that legendary British actor John Hurt reportedly died. And soon, people will be wondering how did John Hurt die? It is reported that the dynamic actor who had a lifetime of roles died at the age of 77-years-old.
Hurt's life will be remembered through his six-decade spanning career. The actor starred in dozens of movies since 1966 — from The Elephant Man (for which he was nominated for an Academy Award) to three different Harry Potter films — to starring in the Academy Award nominated Jackie in 2016. His hard work did not go unnoticed — Hurt was knighted by Queen Elizabeth II in 2015. But it is not clear exactly what Hurt died from. According to The Hollywood Reporter, Hurt's death was first reported by several British newspapers. It is possible that the actor died of pancreatic cancer — which he had been battling since June 2015. At the time of his diagnosis, Hurt had been undergoing treatment, including chemotherapy, and was "optimistic about a satisfactory outcome," according to the BBC. It is unclear whether cancer contributed to his death.
According to Vanity Fair, the cause of his death was not immediately reported. According to The Daily Mail, Hurt's cancer cleared up in October 2015, just a few months after he had announced his diagnosis. "I am overjoyed, I am thrilled," Hurt told The Daily Mail at the time. "It all looks great for the future, it's fantastic."
Although he remained optimistic during and after his cancer diagnosis, Hurt was honest about his own mortality, telling Radio Times, according to The Guardian:
I can't say I worry about mortality, but it's impossible to get to my age and not have a little contemplation of it. We're all just passing time, and occupy our chair very briefly. But my treatment is going terrifically well, so I'm optimistic.
Hurt's absence from the film industry will certainly leave a void — especially since he has been in the industry for so long. Luckily, fans will have some time to see Hurt on the big screen — according to New York Daily News, Hurt completed four movies that have yet to hit theaters before his reported death.
Celebrity deaths are never easy — especially the deaths of beloved actors. Hurt will be missed by many.