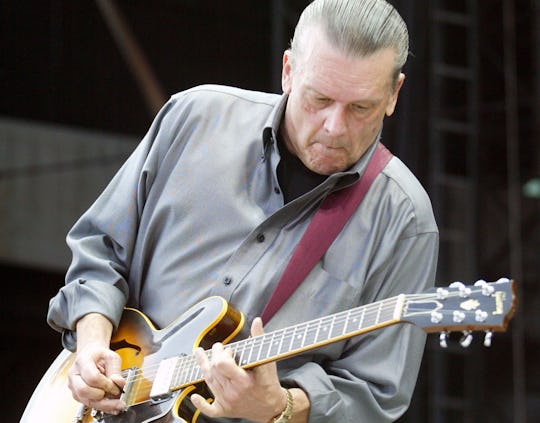 John W. Ferguson/Getty Images Entertainment/Getty Images
Rock Frontman John Warren Geils Dies At 71
Rock fans lost another luminary on Tuesday, when John Warren Geils Jr. was found dead in his Massachusetts home. The rock group frontman, who went by J. Geils professionally, was 71. But how did John Warren Geils die? The chief of police who confirmed the death to USA Today did not immediately provide further details.
Geils was best known for forming the J. Geils Band, in which he sang and played guitar. The band, which formed in 1967 while Geils was a student at the Worcester Polytechnic Institute, rose to prominence in the 1970s as openers for groups like The Allman Brothers Band. Geils and his band achieved a whole new level of success in the 1980s, however, most notably with the chart-topping, insanely catchy "Centerfold," about a man who discovers that his high school sweetheart became the centerfold of a men's magazine. That song remained at the number one spot on the Billboard Top 100 chart for six weeks in 1982. Other hit songs from the J. Geils Band included "Love Stinks" and "Freeze-Frame."
Although the band split up in 1985, they reunited regularly for tours, even making headlines when they opened for Aerosmith at Fenway Park back in 2010. At the time, Rolling Stone called them "the classic example of a bar band made good."
Geils and the rest of the members of his band were nominated four times for induction into the Rock and Roll Hall of Fame, although they never made it in.
But Geils wasn't only interested in music. He was also a self-proclaimed "Ferrari fanatic," and spent time fixing and racing sports cars, according to the Worcester Telegram & Gazette. And Geils was married for 28 years, although he and his former wife Kris amicably split in 1999.
When it came to achieving his fame, Geils told The Boston Globe,
It didn't happen overnight for us. It was lots of hard work. Like the saying goes — success is 10 percent inspiration, 90 percent perspiration. Like with any band, a lot of positive forces got aligned at the same time, and it just happened for us.
According to CNN, the police found Geils unresponsive at his home in Groton when they went for a "well-being check," and he was declared dead at the scene. Police are investigating Geils' death as a standard procedure, and do not suspect any foul play.
RIP, and sending comfort to those who knew and loved him.