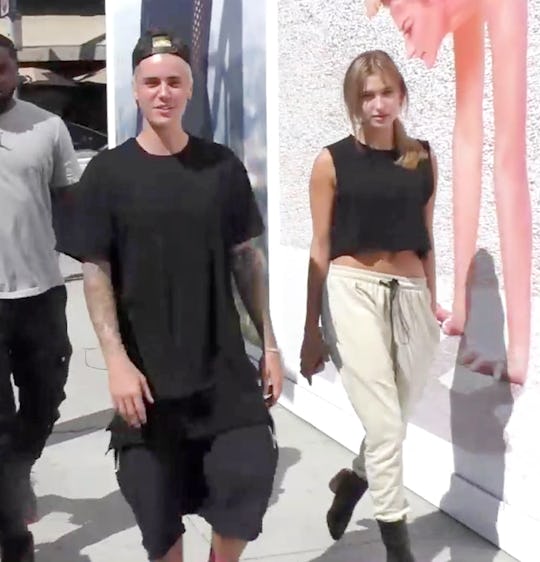 JMA/Star Max/Getty Images
How Did Justin Bieber Meet Hailey Baldwin? They've Been Close Friends For Years
Fans are hoping for a Justin Bieber appearance at the Grammys, but they're also wondering who might be on his arm. Though there are plenty who pine for the days of Jelena, it's starting to look as though he's got a new romance going with a longtime friend. How did Justin Bieber meet Hailey Baldwin? They were introduced by her dad, according to MTV.
While there are plenty of celebrity friendships and relationships that seem to emerge out of nowhere, Bieber and Baldwin's first meeting was actually caught on camera. Actor and producer Stephen Baldwin introduced the two when Bieber's career was just taking off in 2009. In the clip, Hailey appears to shake Bieber's hand and say "Nice to meet you" before crossing her arms. It's a guarded, polite first interaction, but it wouldn't be their last run-in: they had a few fun encounters backstage at TODAY and at the premiere of Bieber documentary Never Say Never, according to MTV. Their casual connections at professional events led to a seriously amazing friendship. Fans have watched the two grow up on social media — Bieber dealing with the highs and lows of his music career as Baldwin catapulted into celebrity as a model.
Rumors of a romance circled for a long time before a photo of Baldwin and Bieber kissing was posted to Bieber's Instagram in early January, reported Hollywood Life. The two stars were on vacation together at the time, publishing a string of snapshots that made it look like a seriously dreamy beach getaway.
Since then, they've continued to spend time together: Baldwin and Bieber hung out in San Francisco before Super Bowl 50, according to E!. They spent time at Fort Mason National Park with friends on Saturday. Bieber posted a group photo to Instagram with the caption, "She loving the crew."
Though they've certainly known each other for a long time, Bieber still remembers how it all began. In a Jan. 5 tweet, he posted a link to the video of his first meeting with Baldwin and wrote, "Haha amazing," according to Us Weekly.
Whether Baldwin and Bieber will be at the Grammys, and whether they'll be there as a couple, is still not certain. There's no question, though, that they seem to be spending plenty of time together.