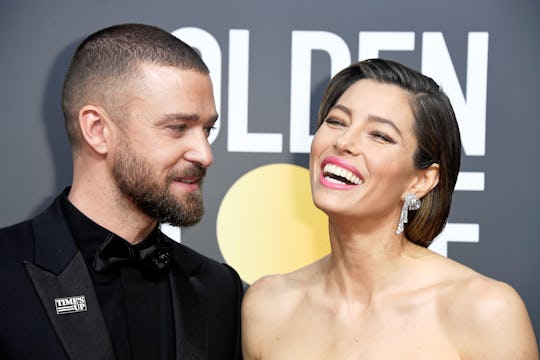 Frazer Harrison/Getty Images Entertainment/Getty Images
Here's How Justin Timberlake Met Jessica Biel (Spoiler: It's Adorable AF)
Justin Timberlake is set to perform for the 2018 Super Bowl halftime show, marking his return to that stage for the first time since his infamous appearance in 2004. No official word yet whether his wife, actress Jessica Biel, will be in attendance, but it's probably very likely she'll be there. As Timberlake takes the stage before millions, internet searches about the pop singer are sure to heat up, and one of the best stories is related to how Justin Timberlake and Jessica Biel met. It's actually a pretty sweet story, and it sounds like one of Biel's old co-stars was there for the magic moment.
The couple reportedly met for the first time at the 2007 Golden Globe Awards, and there was a spark right from the beginning, according to Biel's former 7th Heaven co-star Beverley Mitchell. She told TODAY:
I was there like the moment the love connection happened. I was like, 'OK, this is happening.'
It was so cute because they were like — it's that moment like, 'I like you, I think you like me.' It was very, very sweet. They were definitely flirting. They were really cute.
It's kind of cool that someone who was such a big part of Biel's life for many years got to witness that moment, and it seems like the magic Mitchell witnessed then wasn't short-lived — the couple got married in 2012 and have been together ever since, according to Entertainment Tonight.
The fact that the couple met with Mitchell there is particularly funny because, according to Mitchell, Biel used to poke fun at her for being friends with the guys from *NSYNC. Mitchell said, according to Cosmopolitan:
She used to make fun of me because I'd been friends with like all the guys from *NSYNC years before. She used to literally like give me so much crap!
Good thing Biel didn't let that impact her impression of Timberlake, because it didn't take long for the two to start dating once they met. During a press conference with the Hollywood Foreign Press Association in 2012, Timberlake said their dating life began in a really normal way — with a phone call. Timberlake said, according to Us Weekly:
We met and got talking. Afterwards I asked my friend if I could call her and ask her out. My friend called Jessica and Jessica said yes, and so I called her.
Timberlake said that he learned this technique from the men in his family, and that he had to be "persistent" to get Biel to finally say yes. He said, according to POPSUGAR:
That's something I learned from both my stepdad and my grandfather. That there is a thing called chivalry and it doesn't have to die with the birth of the internet. The way I see it, if you're asking a girl out on a date, it's only right to do it in a way that she can hear your voice. I had to be pretty persistent in order to get her to say yes. But I have a fair amount of tenacity and if I want something I stick to it. And in the end, she agreed.
And the rest is history. The couple has now been married for a few years, and they share a 2-year-old son named Silas. But despite the life that they share, Biel is totally in the dark about what the performance will entail. She told E! News back in November:
I know nothing, I truly — I think, I think, you know, it's...They're being very thoughtful about what they want to do and figuring it out.
Which just goes to show you that being married to the guy doesn't always give Biel the inside scoop on his projects.
Timberlake and Biel were apparently very into each other right from the start, and it doesn't seem like that spark has gone anywhere. It will be interesting to see Biel's reaction to Timberlake's big halftime show performance, if she's there cheering him on in Minnesota.
Check out Romper's new video series, Romper's Doula Diaries:
Watch full episodes of Romper's Doula Diaries on Facebook Watch.