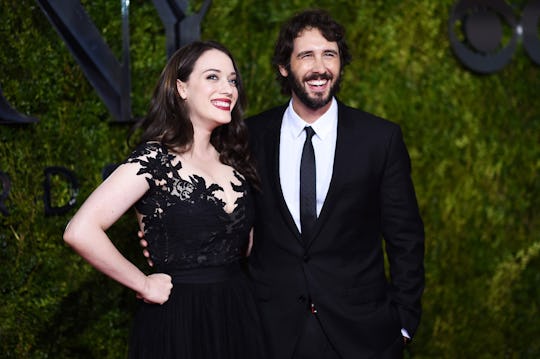 Mike Coppola/Getty Images for Tony Awards Productions
How Did Kat Dennings & Josh Groban Meet? It Was Love At First Tweet For This Adorable Couple
Josh Groban will be attending the Grammy Awards because his album Stages is nominated for Best Traditional Pop Vocal Album, but all I'll be thinking about is Groban and his adorable girlfriend Kat Dennings walking down the red carpet together. Judging from how they talk about each other to the press, they might be the cutest couple ever. So how did Kat Dennings and Josh Groban meet? Brace yourself, because your heart is about to melt.
In October 2014, Dennings told Ellen Degeneres during an appearance on Degeneres' talk show that the two were introduced by Beth Behrs, Dennings' 2 Broke Girls costar and a mutual friend of Groban. Dennings said that Behrs thought they were both "nerds," so it was bound to work out. "She's always talked about how great he is and they've been friends for years, and she thought we were both, you know, nerds," she joked. Dennings said she'd had a little Twitter crush on the singer, long before they ever met in person, which is sort of hysterical. (Celebrities, just like us! Swooning over social media snark.) "He's very witty on the Twitter and I saw his little tweets sometimes," she confessed, according to People magazine.
Dennings may have seemed a little nervous to talk about her love life and how Groban won her heart, but it's not like the duo are trying to keep their relationship a secret. Way back at a charity event in 2014, the actress posted their picture on Instagram, captioning it, "I ship it."
Over turkey day, Dennings even got a little mushy. Taking to Instagram once more, the actress captioned one photo of Groban in particular with a little heart emoji, writing, "There was only one thing missing this Thanksgiving."
Groban isn't shy about talking about the couple's love life either. When they first stepped out together in 2014, the 32-year-old singer told E! that he was proud to have Dennings, who's 29, in the crowd for his performance. "I'm very lucky my girlfriend has joined me tonight," he explained, before joking, "It's her first time hearing me sing, so I'm going to do some extra warmups tonight so I don't suck."
As funny as Dennings is, she might have met her match with Groban. She wasn't joking about him being hysterical on "the Twitter." He's got jokes. Cheesy jokes, but aren't those the best kind? Just look at him cracking up about something she said on the 2015 MusiCares Person Of The Year Gala (talk about relationship goals):
It's nice when you can tell that two people seem to actually like each other, whether they're celebs or not. Hopefully Dennings will be his date to the awards next week so we can swoon over them being goofy together on the red carpet.
Who knew you could turn Twitter respect into love? Crazier things have happened, that's for sure.