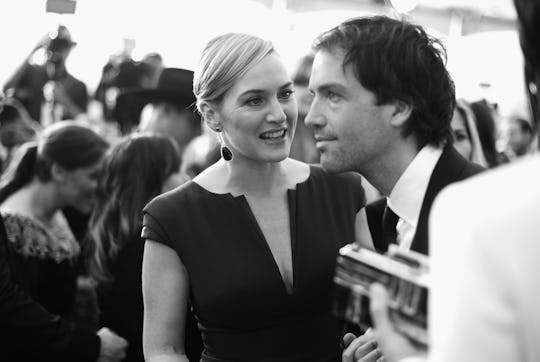 Charley Gallay/Getty Images Entertainment/Getty Images
How Did Kate Winslet & Ned Rocknroll Meet? The Story Is Almost Too Crazy To Believe
Plenty of couples in Hollywood are known for being quite steamy (hello Brad and Angie! George and Amal! Sofia and Joe!), but Kate Winslet's relationship with husband Ned Rocknroll is on fire. Winslet, who privately wed Rocknroll 2012 just a year after starting their courtship, is gracing red carpets with her husband, lauding him publicly, and welcomed a son with him in late 2013. But how did it all begin? How did Kate Winslet and Ned Rocknroll meet?
Well, here's where the steamy wordplay starts to make sense. In a scene seemingly out of a movie itself, Winslet and Rocknroll first became acquainted on Richard Branson's private island, Necker Island — during a fire. Yes, remember the reports about Kate Winslet saving Branson's 90-year-old mother from a blaze? This was the same one. At the time, Winslet was on the island vacationing with then-boyfriend Louis Dowler, while Rocknroll, who works as the Head of Marketing Promotion and Astronaut Experience at Branson's company, Virgin Galactic, was also on Necker Island. (What does that mean? Well, if you're able to one day pay round-trip for a flight into space, Rocknroll, who is also Branson's nephew, was someone who helped you get there.)
Luckily, everyone on the island escaped the fire with their lives, and some, as it turns out, with love. As Winslet told Ellen DeGeneres in 2014, "My husband and I met in a house fire basically. Well, we did."
It's obvious that the moment made a profound impact on the couple's lives. Not only because it's a meet-cute out of cinema, but also because it inspired the name of the couple's 2-year-old son, Bear Blaze Winslet. Said Winslet about the name:
The house burned down and we survived ... But we wanted something of the fire, and so Blaze was the name that we came up with.
And what about Bear's first name? Well, adorably, Winslet and Rocknroll got help from Winslet's other two children with exes Jim Threapleton and Sam Mendes, Mia and Joe.
It was really lovely, actually, they were very much included, and we settled on Bear quite early on ... A friend of mine when I was younger was nicknamed Bear and I just had always really loved it. And he was very much a bear. He was everyone's shoulder to cry on, he was a big bear hug, he was a great figure in my life.
And so is, it seems Rocknroll. Winslet has not shied away from waxing poetic about her husband to the press — impressive, especially considering just how private the duo is. As she told the WSJ Magazine, "Thank God for Ned — really. He's just so incredibly supportive, and he's so much fun. He's absolutely everything to me. And to all of us." (Considering his last name, "fun" is an understatement — Rocknroll was born Edward Abel Smith, but legally changed his name because "He thought we all took ourselves too seriously so it was about reacting against it," according to his ex-wife Eliza Pearson.)
Safe to say the couple will continue to light up the red carpet in future years — this isn't a romance going up in flames anytime soon. (Sorry. Too easy.)