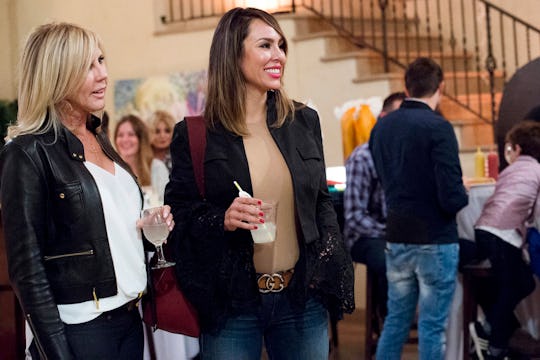 Nicole Weingart/Bravo
Kelly Dodd From 'RHOC' Is Doing Quite Well For Herself
Like all the women on The Real Housewives of Orange County, Kelly clearly has a lot of money. Enough to afford that gorgeous house on Newport beach. Also like many of the women on The Real Housewives of Orange County (though not all), Kelly doesn't appear to have a job. So how did Kelly Dodd make her money? The RHOC star is definitely well-connected.
Before Kelly joined the cast of Real Housewives of Orange County, I did not think it was physically possible for anyone to be more out there than Housewife OG Vicki Gunvalson. However, Kelly has admirably proven herself to be willfully self-delusional, quick to fury and even quicker to lobbing low blows, and perfectly willing to stick her nose where it most certainly does not belong.
Kelly has not been known to have a job outside of the show, but really, this is perfectly fine with me because I think Kelly's true calling is reality TV. It's where her flair for drama truly shines through, and really is what keeps me coming back for more week after week. But presumably, the bulk of Kelly's fortune comes from her husband, who is a former big wig who made his fortune from a major tech company — you may have heard of it — called LeapFrog.
In the '90s, I was just slightly too old for LeapFrog to actually help me learn to read, but that didn't stop me from envying the pants off of anyone who had one. Yes, well Kelly Dodd's husband, Michael Dodd was the COO of this company. I know, right. He reportedly cashed out of the company when his daughter was born in 2006, which I can only imagine resulted in a hefty chunk of change. Hence, the beach house. Most reports that I've seen have estimated Kelly's net worth to be around $9 million, though none of that can be totally confirmed.
Kelly's net worth could be about to change however, as she has just confirmed that she and her husband are filing for divorce. It may be unpleasant to actually discuss in real life, but divorce definitely affects one's financial situation. The process itself is expensive, but furthermore if Michael was the primary breadwinner in the marriage, that means that Kelly could be entitled to a large portion of his earnings. I'm not going to pretend that I have any sort of insight into the nitty gritty of this couple's finances. Divorce is always a tragedy and I wish nothing but the best for both of them as they go their separate ways. But I do know that when a Housewife gets a divorce, the drama and the dynamics of the group all shift.
Kelly and her husband have been going through a rough patch for a while. In fact, her marital problems were a part of the ongoing drama in her first season on the show. Because she and her husband have now decided to end things, this basically ensures that she'll be asked back for another season. It may be kind of gross but you know that it's true. That is how reality shows work. In any case, even single, Kelly will certainly still be able to afford gorgeous home furnishings (seriously, her home is unbelievable), fancy parties, and all the champagne anybody could ever want. I wish her nothing but luck in the future, and I can't wait to see what's next in store for her.
Watch Romper's new video series, Romper's Doula Diaries:
Check out the entire Romper's Doula Diaries series and other videos on Facebook and the Bustle app across Apple TV, Roku, and Amazon Fire TV.