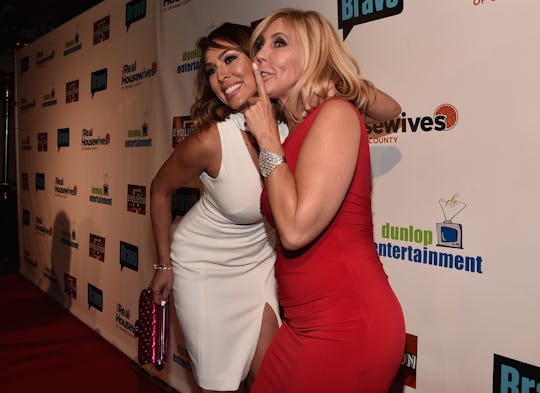 Alberto E. Rodriguez/Getty Images Entertainment/Getty Images
How Did Kelly Meza-Dodd & Her Husband Meet? The 'Real Housewives' Couple Hit A Rough Patch
This season of The Real Housewives of Orange County is introducing a new Housewife, and she is making waves even before showing up onscreen. But before Kelly Meza-Dodd makes her debut on Bravo, it's worth taking a look at the few details about her that are out there. Kelly is married to Michael Dodd and they have one child together, a daughter named Jolie. According to her Bravo bio, they recently had a rough patch but are now making it work. How did Kelly Meza-Dodd and her husband meet?
Both Kelly and her husband come from the business world, which might be how they met, but so far the story of how they got together hasn't been made public knowledge. They got married in 2006, which was also the year their daughter was born. Kelly is currently the COO of a company called Kiss Me Mirrors, and Michael is the former president of LeapFrog Enterprises. He has since left the company behind to spend time with his family. If there's one thing that comes across on Kelly's Instagram, it's that family is pretty important to her: it's nothing but pictures of her daughter, travels with her husband, and old family photos.
Kelly is also something of a recent transplant to Newport Beach, having moved there from San Francisco just two years ago. While her bio might say that their marriage is going strong once again, it seems likely that any issues the two have will end up being part of Kelly's story on the show; RHOC has dealt with marital strife plenty of times in the past.
Even before the premiere of the new season, Kelly stirred some drama online when she recently made some drunken, racist comments to TMZ as well as claiming she was "married but available." She commented on her comments after the fact in an attempt to apologize, saying she was embarrassed for "acting irresponsibly" and that there was "no excuse" for what she said. According to her, the comment about her marriage was a joke.
Whatever the truth about Kelly, it's sure to come out on the upcoming season of the show. Tamra Judge gave E! a little bit of a hint about Kelly when she told them that the new girl on the show "makes me look so innocent if you can imagine." Kelly seems like she'll be making a big impact on her first season as a Housewife, whether it ends up being good or bad.