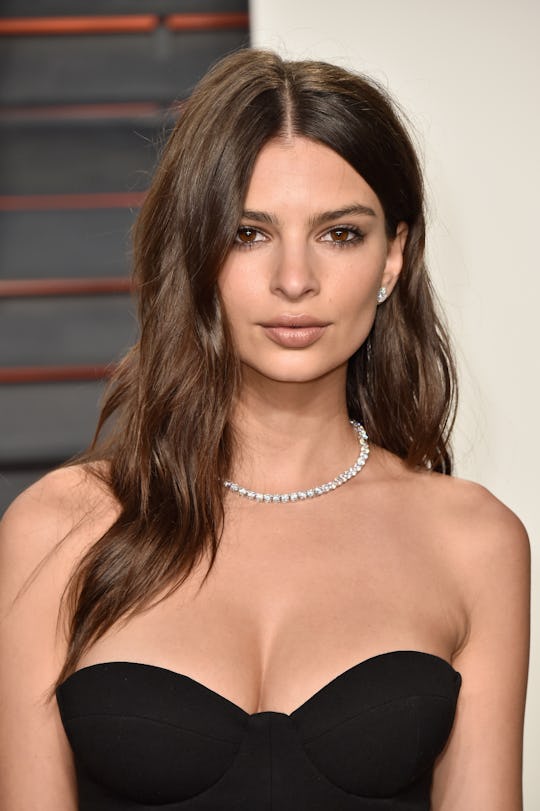 Pascal Le Segretain/Getty Images Entertainment/Getty Images
How Did Kim Kardashian & Emily Ratajkowski Meet? The Instagram Stars Have Everyone's Attention
After sparking a conversation about female sexuality and Instagram selfies this week, fans need to know how Kim Kardashian and Emily Ratajkowski met and what they were working on that they were in the same dressing room together. It's not clear how long they've known each other, but their friendship seems like it was meant to be, if only because the respect they have for each other is real. This week, they made most of the Internet go wild after posing together, topless, on Instagram. Kardashian captioned the photo, "When we're like…we both have nothing to wear LOL." The two women are also sporting their best duck faces while giving everyone the middle finger.
But it's really just the most recent installment in what I've started calling the "what to wear, naked selfie" series Kim started late last month. She posted a full frontal nude pic — with her breasts and pubic area blacked out — on Instagram, and made a joke in the caption about now knowing what to wear. Soon after, Ratajkowski, an actress and model who's also very active on Instagram, posted her own version of Kardashian's shot from Paris Fashion Week with a similar caption about the struggle of getting dressed. In all three instances, the shots have been used as jumping off points by both stars to discuss body image and the objectification of women's sexuality.
Both women have spoken out about body image after posting their individual pics. After Kardaahian's nude, she wrote on her blog that she hope to empower women through her selfies. "I hope that through this platform I have been given, I can encourage the same empowerment for girls and women all over the world," she wrote in February. Ratajkowski, too, wrote about being empowered and accepting her sexuality in a February Lenny Letter. She wrote, "The implication is that to be sexual is to be trashy because being sexy means playing into men's desires." But it's more than that, she continued, "'sexy' is a kind of beauty, a kind of self-expression, one that is to be celebrated, one that is wonderfully female.
In fact, while Kardashian posted the selfie to her Instagram, Ratajkowski tweeted the photo with accompanying tweets to take on anyone who would call out the two women sluts, trashy, or anything else for taking their tops off on social media. Ratajkowski's been tweeting all week about the shot:
Sometimes a topless selfie can be more than a topless selfie. Both Kim Kardashian and Emily Ratajkowski live and work in the spotlight. Because of that, their bodies are just scrutinized as much as they are celebrated. It's only logical that they would want to take back the conversation about owning their bodies and their image.