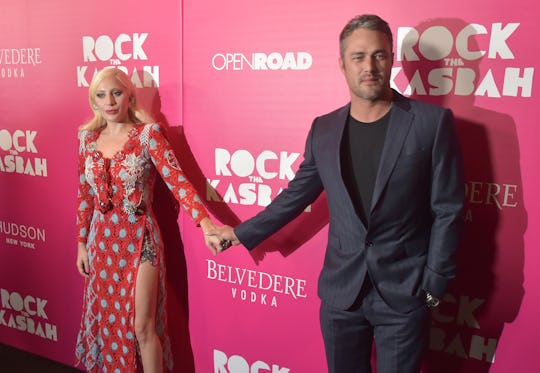 Theo Wargo/Getty Images
How Did Lady Gaga And Taylor Kinney Meet? The Couple Have A Strange & Beautiful Love Story
It's no bad romance for Gaga and her fiancé, Taylor Kinney. But what's the story behind this mysterious duo and how did Lady Gaga meet Taylor Kinney in the first place? Though Gaga has been pretty private about her relationship, which began in 2011, the pop icon has been bringing her man to parties lately, engaging in some PDA and posing for the paps on the red carpet.
The timing couldn't be better either: In December 2015, Gaga received a surprise Golden Globe nomination for her acting in American Horror Story: Hotel. She was also honored by Billboard Women In Music as 2015's Woman of the Year. I'd assume that going to all these award show parties is way more fun with a partner in crime.
Of course, the couple met in a totally Gaga-appropriate way: According to Us Weekly, the two first laid eyes on each other while filming one of Gaga's music videos. And Gaga was wearing fins. (Are you really that surprised?) Here's the backstory: Gaga was shooting the video for "You and I" which, ironically, was inspired by Gaga's then on-again off-again beau Luc Carl. Kinney was cast as Gaga's love interest in the video and Gaga was playing a mermaid — I'm not talking Ariel here — so, naturally, sparks flew.
(Wanna see the steamy "You and I" video hook-up that led to one of the biggest engagements of the year? I don't blame you one bit.)
Since the start of their official relationship in May 2011, Gaga and Kinney have kept their relationship under wraps, giving paps the occasional photo, but nothing more. For the most part, the couple have been pretty private about, well, their private lives. In 2012, Kinney gave a shout-out to his special Lady in an interview Kathie Lee Gifford and Hoda Kotb, but he made sure not to give away too many details. "For whatever reason it works, but I'm a happy guy. I'm a lucky guy," he said on The Today Show.
For a while, Gaga remained protective of her relationship, rarely stepping out with Kinney. "We're both very protective of our love," Gaga told Howard Stern in a 2013 interview. "We treat each other with a lot of care and we're good to one another."
Since then, it seems that the pop icon has grown accustomed to being in a public relationship without sacrificing any romance along the way. In early 2014, Gaga even took Kinney to a Bazaar Icons party — and from the looks of it, the couple sure knew how to work a step-and-repeat.
What how do they make it work? Kinney is in love with the real Gaga (or rather Stefani Germanotta), the singer told Stern — and not the iconic persona all her "little monsters" love. "He ... doesn't care about me being famous," she said. "I'm not famous to him, I'm his baby."
Who else can't wait to see these two make the rounds during awards season?
Images: Theo Wargo/Getty Images; Youtube (screengrab)