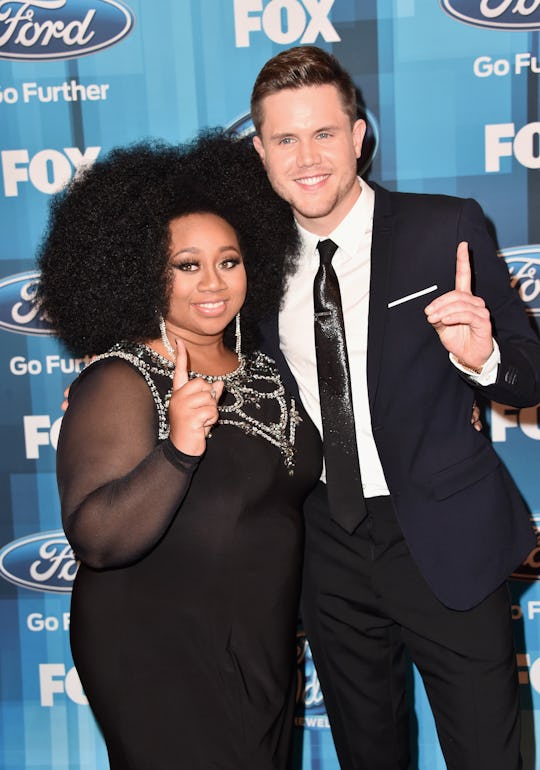 Alberto E. Rodriguez/Getty Images Entertainment/Getty Images
How Did La'Porsha Lose On 'American Idol'? Twitter Isn't Happy About It
American Idol is officially off the air. But, the show couldn't say goodbye forever without crowning one last and final winner and having one last major show down. The final two came down between two very soulful singers, La'Porsha Renae and Trent Harmon. Votes were cast during part two of the three part finale on Wednesday night and the results were read live on Thursday. However, the results from the show aren't making people very happy. Tonight, many people will go to bed wondering, how did La'Porsha lose on American Idol?
From early on in the competition, La'Porsha was a fan favorite from the start. Her heartfelt tale about being a single mother with a passion for singing tugged on the hearts of a lot of the American Idol viewers at home. Even American Idol Season 1 winner Kelly Clarkson, yes the Kelly Clarkson, tweeted her support of the finalist on Wednesday night. "I have never voted for anyone on @AmericanIdol not even 4 myself BUT I will be voting for La'Porsha Renae tonight. I need her future record," Clarkson tweeted.
Even former Idol alums Ruben Studdard and Jennifer Hudson posted about how they were voting for La'Porsha on their social media accounts. Unfortunately, the support of the Idol alums wasn't enough to push La'Porsha's votes above Trent's and Trent was crowned the winner of Season 15 within the last 10 minutes of the two hour finale on Thursday night.
Still, despite America's voting for Trent and declaring that he is our next American Idol, a lot of people are not happy with the results. And that can not be made any more clear than through people's reactions that they have had on Twitter.
Judging from Twitter, a lot of people are asking La'Porsha lost and why she lost to Trent, as they took to the website to air out their frustrations with the results. The tweets, both a mix of very serious and very funny say exactly what fans of La'Porsha are thinking.
However, if the tweets show us anything, it is that La'Porsha has a huge fan base behind her which will definitely give her a huge boost in her career now that Idol is over and she begins her life as a recording artist.
If anything, La'Porsha can be assured that America will definitely not forget her name for a very long time. How La'Porsha lost came down to America's decision, but judging by Twitter's reaction, she has emerged victorious.